The aggrieved 499 law students denied admission, despite passing the 2021 Ghana School of Law entrance exam, have asked the management of the institution to reverse its decision.
The students said their supposed failure was a travesty of justice, a situation that should be corrected immediately. They explained and described as bizarre the fact that most of them in the 499 group obtained higher marks than some of the admitted candidates in the 790 passed list.
They questioned how a candidate who obtains more than 60% in an exam is deemed to have failed and therefore not eligible for admission whereas another candidate who obtains 50% in the same exams is deemed to have passed and therefore offered admissions.
"Such logic! This certainly can only be one of the wonders of the world, and can only happen in the lexicon of the Ghana School of Law".

Aggrieved law students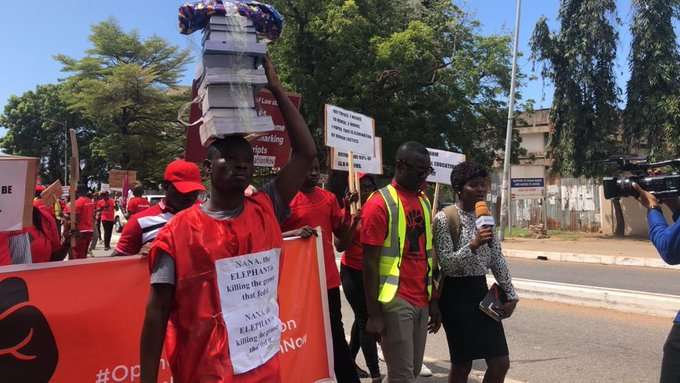 The aggrieved law students averred that, if this arbitrary and capricious exercise of discretionary power is not checked, the nation shouldn't be surprised if next year, the Ghana Legal Council (GLC) says that candidates must obtain more than 70% in the entrance exams to be deemed to have passed.
"Well, like every well-meaning Ghanaian, we are unable to accept this travesty of justice, and we make a passionate appeal for the reversal of this manifest injustice, for the love of God and Country".

Aggrieved law students
The students emphasized that, the IEC/GLC and for that matter the Ghana School of Law has always maintained that, their inability to admit more students for the professional law programme, has absolutely nothing to do with inadequate lecture facilities or staff.
They disclosed that the Ghana School of Law have always told the whole world that the reason why they are unable to admit more candidates is that the candidates were just not passing the entrance exam (securing the minimum 50% pass mark) and that, they had always made provision for huge intake.
"Indeed, when in 2019, 128 were said to have passed which development generated some eyebrow, the school responded that the Candidates just failed to cross the 50% pass mark, and that, the school had made provision for huge intake that year".

Aggrieved law students
They revealed that in 2019, in anticipation of huge intake that year GLC announced that it had rented a lecture facility at the University for Professional Studies (UPSA) Accra. However, they are now using pass mark as the reason for not admitting students.
The aggrieve students indicated that, when in 2020, some 1045 candidates passed the entrance exams, they were all admitted owing to the ingenuity of the GSL, particularly its acting director, Maxwell Opoku-Agyemang, who introduced a triple track system.
They said that, if in 2020, the GSL could be this ingenious and innovative, then in 2021 with the benefit of hindsight, the GSL under its current director, Kwesi Prempeh – Eck, has no excuse but demonstrate more ingenuity and innovation.