The veterinary officer in-charge of the Tema Metropolitan Assembly, Dr Emmanuel Kwao Pecku, has intimated that cattle crossing major roads pose a major risk to other road users. He raised this concern as he disclosed that sometimes drivers run into the herd of cattle unaware of their presence on these roads.
Speaking on the practice that takes place, he averred that the animals crossing these roads are potential cause for injuries and road crashes. Dr Pecku stated that these animals could easily injure pedestrians,;as there has been instances where cattle out of control have caused hazards to people nearby. Also
Dr. Pecku, who also has an oversight responsibility for Tema West Municipality and Kpone-Katamanso Municipality,;further said cattle crossing major roads are not acceptable and urged authorities to work towards eliminating such practices. The Veterinary Officer disclosed such animals are supposed to be reared in the rural area and not urban areas.
"As a veterinary officer, I strongly recommend that ranches are built to keep and protect these animals from unnecessary harm either on the road or by some residents".

Dr. Pecku
Enforce bye-laws to regulate animal movement
Dr. Pecku therefore appealed to the various Metropolitan,;Municipal, and District Assemblies to enforce the bye-laws which regulates the movement of animals in urban settlement. He explained that the uncontrolled movement of cattle also posed health danger to people who come into come into contact with it,;depending on whatever illness they were carrying.

Dr. Pecku also revealed cattle fall within the zoonotic diseases' zones, which could spread in many ways. He then noted it was therefore dangerous to allow such animals to roam around human habitation and in urban centres.
"These could spread by working closely with infected livestock,;contact with infected pets, exhibited animals or wildlife,;contact with soil or water contaminated by animals,;and consumption of contaminated unpasteurized dairy products." Also,

Dr. Pecku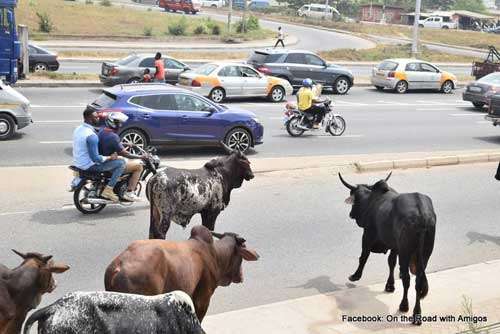 Touching on ways to prevent the spread of animal diseases to humans,;Dr Pecku further indicated, this can be done by practicing good personal hygiene,;wearing protective clothing, maintaining healthy animals and undertaking preventative treatments and vaccinations where appropriate. This, he said,;could also minimize the risk of some animal-borne diseases infecting people.
Advise to animal caretakers
Dr. Pecku also cautioned the rearers and those who handle these animals to take precautions to reduce their risk of infection and also help in keeping the animals healthy. Also
"Minimize their exposure to other animals that are likely to be infected and minimize domestic dog exposure to feral pigs that may be infected with Brucella suis. Dogs may become infected and serve as a source of infection for humans. Vaccinate livestock for known zoonotic diseases,;such as anthrax and leptospirosis in cattle, Hendra virus in horses and rabies in dogs.
"Ensure you, your family and your staff seek medical attention if unwell. Talk to your medical practitioner,;about minimizing the likelihood of being infected with zoonotic diseases, if you might have been exposed to any animal".

Dr. Pecku