President Nana Addo Dankwa Akufo-Addo has appealed to Ghanaians to continue to have hope that government will restore the country onto the path of prosperity.
In his Easter message to Ghanaians, Nana Akufo-Addo indicated that Ghana's economy was doing well until the coronavirus pandemic emerged. He indicated that, the consequences of the pandemic have been exacerbated by the geopolitical tension between Russia and Ukraine.
"In the face of the current difficulties confronting our nation, I admonish all of us to be inspired and guided by the promise of salvation. I ask, respectfully, all of you to continue to have hope of great time soon for our country."

Nana Addo Dankwa Akufo-Addo
According to President Akufo-Addo, government is working hard to restore the nation back onto the path of progress and prosperity. He indicated that it was already part of government's objectives. "All these difficulties notwithstanding, I am confident, that with creativity, enterprise, hard work, perseverance and unity, we the Ghanaian people shall overcome for our future is bright."
Touching on the Easter celebrations, President Akufo-Addo indicated that, this year's Easter will be the first in three years that Ghanaians are going to have the opportunity to celebrate fully, following the lifting of all the restrictions the government imposed to help win the fight against COVID-19.
According to the President, the infection rate is low with only 32 active cases recorded as of Monday, April 11, 2022. He added that there are no severe cases and the various treatment centers are empty as well.
"I appeal to each and everyone of you, not withstanding the lifting of restrictions and the good news of our infections, to continue to live responsibly and safely so, we can all play our part in building mother Ghana."

Nana Addo Dankwa Akufo-Addo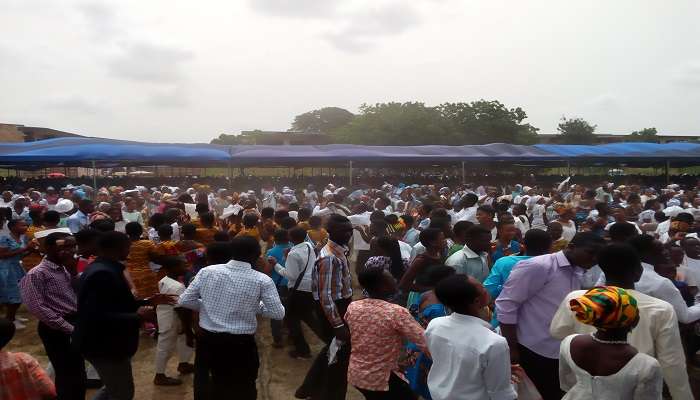 Drivers cautioned to drive carefully
The President then cautioned drivers to drive carefully on the roads in this season and urged Ghanaians to keep the nation in their prayers at all times. "So, let us again enjoy our Easter convention, parties, picnics and the traditional Easter Kwahu festivities."
The President stated that for him and all Christians, Easter is the most important day on the Christian calendar. He stated that it signifies the supreme sacrifice made for humanity by Jesus Christ over 2000 years ago, with the purpose to redeem Christians from sin and reconcile them to God and must be observed well.
"Jesus Christ himself sometime before his crucifixion on Calvary said to Martha, according to the gospel of John 11:25-26, despite the eeriness of the grave and the hopelessness it symbolized, Jesus Christ resurrected on the third day. The promise of salvation and eternity in Heaven, are what I offer Christians who fight a good fight, keep the faith and finish the race.
"I wish you a happy Easter once more and may the celebration of the crucifixion and resurrection our Lord Jesus Christ, give birth to a new season of hope, growth, prosperity, reconciliation and sacrifice for everybody in our beloved country and in the world."

Nana Addo Dankwa Akufo-Addo
Read Also: Assin North: A By-Election Will Be Interesting- Ben Ephson