The resident engineer of the Pokuase Interchange, Ing Kwabena Bempong, has said that, the first phase of the Pokuase Interchange is set to open in the next three weeks for public use.
Speaking with the media, he posited that, his team wants to reduce the impact of the road works of the interchange on the public as the elections and Christmas festivities get closer, adding that, the move has been necessitated in the quest to reduce traffic congestion during this period.
"We want to reduce the impact of the road works on the public, especially when we are getting so close to the yuletide and elections. We don't want to have challenges with pedestrians and motorists, and also ensure that they have a smooth ride and have a good experience of the Pokuase Interchange. We are hoping that before the end of this month so in the next three weeks this section will be completed and opened to the public."
According to him, the first phase of the project to be opened will be a selection of some parts of the interchange.
He also revealed that, the project, which is expected to ease traffic congestion, improve urban mobility, and benefit agro-industries located within the project zone, will not be able to meet the apportioned deadline but will rather be completed in April 2021, as against the President's assurance of the project being completed in 2020.
He explained that, the Corona pandemic influenced the delay in the project, as some critical components needed for the construction delayed in arrival because of the strict imposition of lockdown measures in the manufacturing countries adding that, the delay is to also give enough room for the massive drainage works to ensure that, the interchange after completion does not experience issues of flooding.
The project which was commenced in July,2018 and was expected to be completed in October 2020, is being undertaken by a Chinese construction company, Zhongmei Engineering Group Limited, with Messrs Associated Consultants Limited (ACON) and the Bigen Group and its being funded by the African Development Bank (AfDB) and the government of Ghana.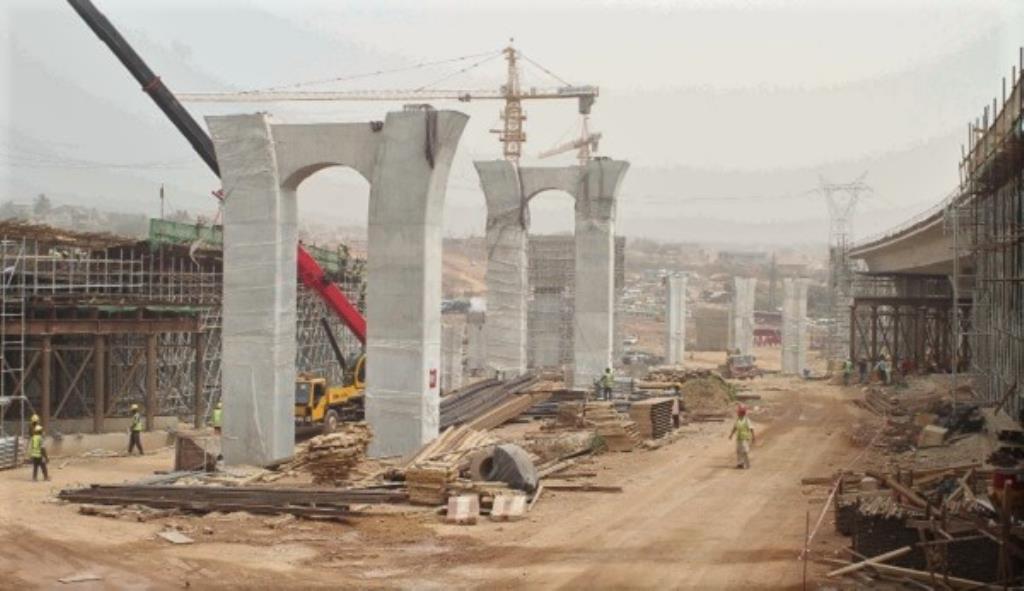 The four-tier interchange, according to the African Development Bank (AfDB), is a project intervention and construction, aimed at removing the expected bottleneck at the Pokuase junction by preventing streams of traffic conflicting with one another from Awoshie- Pokuase and the Accra-Kumasi roads.
Also, the project will benefit the country, by increasing employment opportunities for residents, improve the mobility on the Accra-Nsawam section of the Accra-Kumasi Highways and also reduce the incidence of road accidents at the ACP Junction.
The project is also said to be beneficial as it will, reduce vehicle operating cost as a result of reduced travelling time between Awoshie and Pokuase and also support the banks operation to enable the government to achieve its objective of enhancing urban mobility and improving livelihoods in the project area of influence.