The Fair Wages and Salaries Commission (FWSC) has called on the University Teachers Association of Ghana (UTAG) to immediately call off its strike and return to the negotiation table.
Speaking on the action by UTAG, the Chief Executive Officer of FWSC, Benjamin Arthur, posited that UTAG is violating the labour laws with the ongoing strike.
"So I am appealing to them to call off the strike. Come, if you want to meet us. [The]National Labour Commission has intervened in the matter, so what is the essence of the strike. So, if NLC has intervened, they must obey the labour law and call off the strike."

Benjamin Arthur
Benjamin Arthur disclosed that his outfit has given UTAG the opportunity to study the Labour Market Survey (LMS) report and give a feedback and as such nothing stops them from bringing alternatives if they find no implementation plan.
"You are our partners at the workplace, you could easily suggest something. Must you go on strike? Now coming back to the pay, trust me every worker in Ghana deserves his or her pay and I wish they are made better but the ability to pay remains a key constraining factor and you must understand."

Benjamin Arthur
UTAG on Monday, January 10, 2022 began an indefinite strike in response to what it describes as the worsening conditions of service of the university teachers and the failure of the employer in addressing the plight of UTAG members within the agreed timelines.
Negotiation can deal with grievances
According to Benjamin Arthur, the grievances of the lecturers can best be dealt with through negotiations rather than strike. He posited that the terms and conditions of service cannot be negotiated on their terms alone and negotiations cannot also happen in their absence.
"We cannot have it that when one party is somewhere and the other too is somewhere. So, we would have to meet and show good faith to each other. We have national labor commission; we have arbitrators and mediators but we would have to meet at all cost to negotiate on matters."

Benjamin Arthur
He disclosed that there are several avenues that is of concern to them which he thinks when deliberated will bring fruitful results.
However, the National President of UTAG, Professor Solomon Nunoo has defended the Union's decision to embark on the strike and insists that the Association is opened to dialogue contrary to accusations of taking an entrenched position.
"Going on strike is one of the legal things available to every labor union in pressing home their demands."

Professor Solomon Nunoo
He indicated that UTAG's interest is to view the LMS report and its implementation since that's what they are concerned with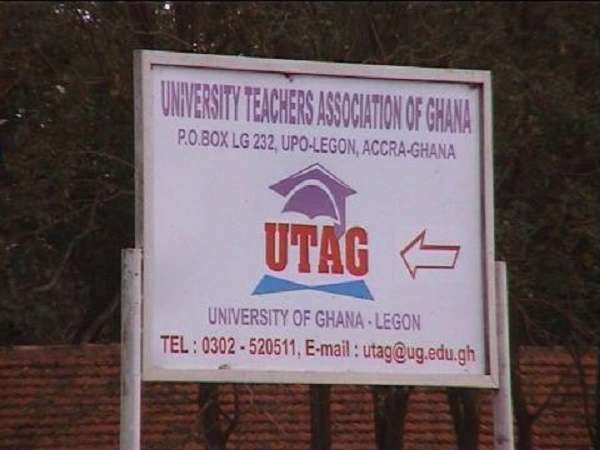 Professor Solomon Nunoo averred that the FWSC's CEO is new in the job and has been in the office for about a week and as such is not privy to some of the discussions that have already gone on.
"A lot of discussions have gone on where they agreed to implement [payment] in December and if I am not seeing any implementation strategy, then the whole story changes. If government says it doesn't want to see market payment, put it on paper then the discussion will go on."

Professor Solomon Nunoo
Read Also: Republicans Applaud Senator Rounds After Trump's Attack