The Ashanti regional branch of the Ghana Private Road and Transport Union (GPRTU) has disclosed that it will collaborate with the Ghana Police Service to enforce the 15.3% transport fare reduction which begins today, December 19, across the country.
The union further threatened to sanction any member of the union who declines to reduce the fare to reflect the 15.3 percent reduction as agreed by the union lastweek. Some drivers, especially intra-city drivers have refused to comply with the 15.3 percent transport fare reduction.
Speaking in an Interview today December 19, Mr. Sumaila Boakye, the Ashanti Regional Chairman for the GPRTU, noted that the union will be monitoring the compliance with the police at road intersections to ensure that drivers do the needful.
Though the Regional Chairman indicated that some of the transport stations are yet to receive the new fares, he mentioned that those who have received them should ensure they go by it.
Mr. Boakye assured passengers that by the close of today, the drivers will use the new fare while calling on passengers to exercise restraint.
This decision was announced last week by the transport operators and follows the reduction in prices of fuel at the various pumps.
Reduction Agreement
The Ghana Private Road and Transport Operators (GPRTU) and the Ghana Road Transport Coordinating resolved to reduce transport fares by 15.3 percent lastweek, following several calls from individuals, institutions, government appointees amongst others.
Ghanaians began calling for a reduction in transport fares as the price of petrol and diesel began to record significant drops. GPRTU had earlier indicated that they were in no rush to reduce the fares and wanted to observe if the current reduction in petroleum products was sustainable.
The decision was taken after a series of negotiations with stakeholders. The reduction takes effect today December 19. An earlier meeting between the Ministry of Transport and transport operators on December 15, 2022, for a reduction in fares ended in a stalemate.
A joint statement by the GPRTU and GRTCC revealed that the reduction affects shared taxis, trotros, Intercity vehicles and haulage trucks.
Meawhile, some public transport users have taken to their social media handles to express their dissapointment as the old transport fares are still being taken by drivers and bus conductors. According to them, drivers are giving the excuse of not receiving an official list of new fares from their various station masters.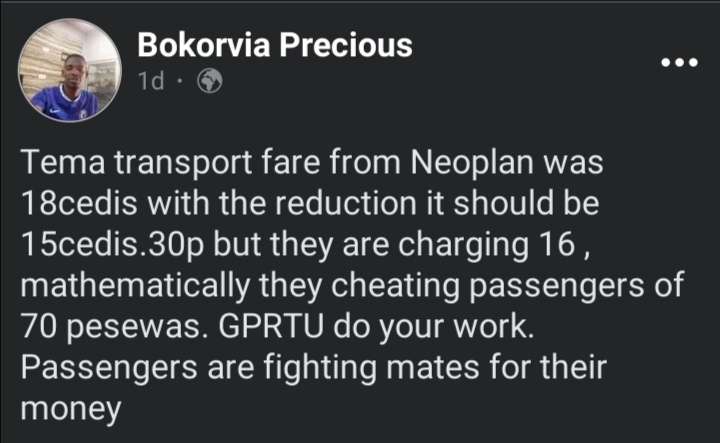 This, they noted, will result in unnecessary arguments between passengers and drivers. They therefore called on the GPRTU to do the needful.
READ ALSO: Covid-19 Could Wosern If Necessary Protocols Are Not Adhered To – GHS