Political Scientist and lecturer, Professor Ransford Gyampo, has intimated that ignorant and low grade public servants from other countries sent to Africa to spy for their home countries, who parade as diplomats, must be called out if they unnecessarily poke their noses into local affairs.
According to Professor Gyampo, Ghanaian diplomats in their various countries don't do that, as such, they must also do same whiles here. He noted that Ghanaian diplomats know how to draw attention to ills of their host countries abroad for the attention of authorities, which is mostly done by engaging them directly behind the scenes.
"We remember how that comedian High Commissioner came to fight with local pastors. Which Ghanaian diplomat can publicly poke his or her nose into the local affairs of the host country abroad? It doesn't happen."

Professor Ransford Gyampo
The Political Scientist asserted that foreign diplomats who are of no relevance in their home countries and posted to Africa as punishment, cannot come and dictate to us. He suggested to them to talk about the ills in their home countries first and confine themselves to their roles as spies.
"Diplomacy is not propaganda, we have serious challenges as a country but anyone well socialized about the dogmas of diplomacy knows how to articulate such challenges for the attention of authorities."

Professor Ransford Gyampo
According to Ransford Gyampo, the fact that Ghana receives aid doesn't mean it must become a puppet and tolerate diplomatic buffoonery. He lamented about how the foreigners also exploit our natural resources and pay us pittance in return.
"They mine all our gold and pay us only 5 percent royalties. They take our oil and pay us about 13 percent. Our political elites, since independence, have refused to renegotiate to get us more proceeds because of greed and no sense of nationalism. Yet they say they mean well for us."

Professor Ransford Gyampo
The Political Scientist averred that the leadership prefer to milk the poor dry through taxes instead of asking foreigners to pay more than 13 percent from the nation's oil they virtually steal. "Ye te sika so, nanso okom de yen. What a leadership?"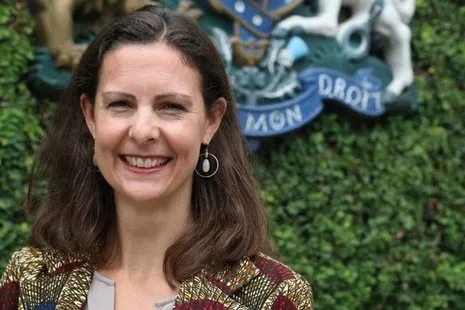 It's Not A Big Deal To Ask For Help
Touching on the Minority's statement that the nation seeks aid but yet it is cautioning the British High Commissioner over a tweet, Professor Gyampo averred that it is not a big deal to ask for aid from those who "surreptitiously steal our natural resources".
"I will make the point that aid is legitimate demand for reparation. It is not licentious for diplomatic buffoonery."

Professor Ransford Gyampo
Professor Gyampo further chastised the Minority stating that even in opposition, it "remains babies with sharp teeth". "What a political suicide to commit with this scary intolerance even in opposition!"
Meanwhile, the British High Commissioner to Ghana, Harriet Thompson, has refuted the police service's assertions that her tweet about the arrest of the #FixTheCountry movement convener, Oliver Barker-Vormawor, was an act of interference.
The High Commissioner suggested that there was no chance her comments via Twitter could rile up Ghanaians and foment insecurity, as was suggested by the police.
"If I had thought there was the remotest chance of that, I wouldn't be tweeting things like that. That is clearly not my intention."

Harriet Thompson
Harriet Thompson stated that the police response felt like an overreaction. She said: "To me, it feels like a stretch. It feels like me saying I am interested in something, is a long way from people saying yes, therefore we must take to the streets. Commenting on something that is of great interest to a lot of people in a country is not interfering in the affairs of that country."
Read Also: Ghana: Add Post-nuclear Accident Recovery Preparedness Framework to Nuclear Plans- OECD to Govt's