Member of Parliament for Bibiani Anhwiaso-Bekwai, Alfred Obeng Boateng, has defended the decision to offer better payments than his probable contenders to delegates in his constituency.
He stated the decision was to forestall any potential rivalry in the forthcoming New Patriotic Party primaries scheduled for February.
Earlier, in a widely disseminated audio recording, he expressed his readiness to pay as much as GHS 20,000 to delegates in the constituency and surpass any possible opponent's offer to delegates.
"I think the comment there is that; those who say they want to compete with me, whatever they have, whatever they want to pay, I will pay more than theirs. So I don't care, whatever they want to pay, whatever they want to do, I will do more than that."

Alfred Obeng Boateng
While acknowledging the authenticity of the audio, the MP maintained that certain segments of the recording had been altered.
"That is exactly the comment that I made. The question the media person asked me; he saw on the various platforms in the constituency that some people say that they have grouped themselves, they have people outside the country who are remitting foreign currency to support them to unseat me. I think that was the response… So when somebody says that in future they will do that, if they do that, I will also do more."

Alfred Obeng Boateng
Also, he denied claims of paying double.
"Not a double, I will do more or I will pay more than whatever they intend to do. That is it, not the word double", he emphasized.
Mr. Boateng further mentioned that he has amassed a substantial sum of dollars to exceed any potential offer that his competitors may propose for each delegate.
Vote-Buying In Ghana's Body Politic
In response to possible criminal charges that he may face, he underscored his willingness to cooperate. He however argued that such investigations, now, may be premature because of the uncertainty of the future in his political career and life in general.
"I agree, yes! They said that in the future, in elections, you will write some people off or you will influence them with some money and other things so I will be investigated. The first question I will ask you is; what are you investigating? Which elections? So let me get there and let's see the details of that particular election you are talking about. Did NPP open nomination for the position? Did Alfred Obeng Boateng file nominations? Did he successfully go through vetting?

"But is it now really about the elections, do we know what is going to happen in the next four months ahead of us? Even I, Alfred Obeng Boateng may not contest the elections. Do you know what nature has for us [and that] even at that time anything can happen?  Maybe, that time I may even get an appointment and I wouldn't want to be a legislator again and I want to serve in a different capacity, whether in Ghana or outside."

Alfred Obeng Boateng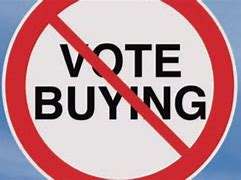 Therefore, according to him if any investigations are opened against him now, it will have no grounds.
"I might not contest and if the special prosecutor starts an investigation now, then he will be investigating something that doesn't exist."

Alfred Obeng Boateng
"So you [have to] wait for something to trigger before you zoom in", he insisted.
Ghana's infant democracy continues to battle with vote buying. This trend is deep-seated in all its elections, from delegates to general elections. Data shows that vote-buying forms a major chunk of campaign expenditures of political parties and their candidates. Votes have been bought at as low price as a chamber and coal pots and as high as vehicles and houses. This situation relegates quality participation which is based on discourse.
While vote-buying is illegal in Ghana under the Section 240 of Criminal Code, this incident is only a shadow of more of such in the much anticipated 2024 General Elections.
READ ALSO: Akosombo Dam Spillage: Accountability Demands Unabated