Felix Ofosu-Kwakye, a former Deputy Information Minister, has stated that the Volta River Authority (VRA) must be held accountable for the recent flooding of Tongu districts, following the spillage from Akosombo Dam.
According to the former minister, recounting the impact of the spillage, the level of destruction ought to have been predicted and well planned.
He thus believes that there were some grave negligence on the part of the VRA, for which they must be held responsible.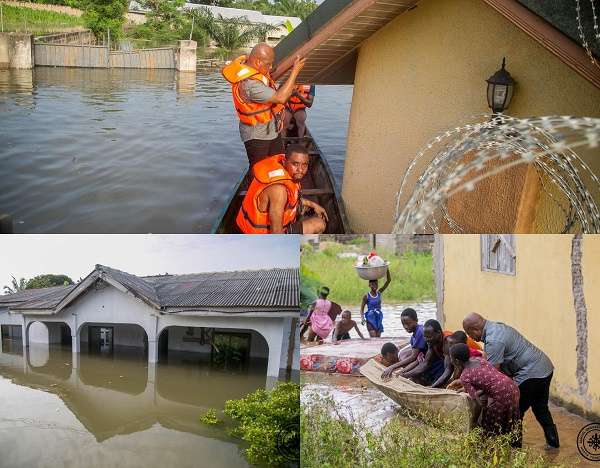 "This scale, in this modern age when it is much easier to plan and predict this sort of disaster? It means that there has been some serious level of dereliction of duty and irresponsibility on the part of the VRA, and it is inexcusable. Because of the impact this has had on people, whose houses have been submerged, some of them have collapsed, schools have been affected, and people have been cut off from civilization, essentially because of this happening, it is a major issue which should not have happened.

"I don't see why people in VRA should not be held responsible for this. I mean, anywhere else, there will be inquiries by now to find exactly what happened."

Felix Ofosu-Kwakye
He expressed utter astonishment at the turn of events and his presumption that there must be some deficiencies in the operations of VRA, despite its positive track record and renowned expertise.
"I would also like to believe that, given that VRA is one of the most structured organizations we have that has considerable expertise, they have strategies in place. First of all, they would know well in advance the level of water they were to expect in this season. I will be very shocked if they do not either have a department that deals with meteorology or they do not have a very close working relationship with the meteor department for them to be appraised of what to expect, in terms of rainfall volumes and how it will impact the dam.

"If that is not there, I will be extremely surprised. It means that there is a deficiency in the work of that organization because it is one of the most respected organizations we have in the country. It has track record from what they have done over the years."

Felix Ofosu-Kwakye
Furthermore, Mr. Felix Ofosu-Kwakye argued that the information put out to warn the residents of the districts did not afford residents enough time to prepare for the disaster.
"First of all, it is not sufficient to say they have been informed. If you anticipate that there will be such a disaster, you have a certain responsibility to enforce the evacuation order, as is done in some places. Again, even the so-called information as reported, was too short to afford the affected people time to prepare for this sort of disaster."

Felix Ofosu-Kwakye
According to him, the actions of VRA which have resulted in the disaster were inexcusable and unacceptable.
"So it is by no means acceptable. And I think that, as a country, we have to take some of these things a bit more seriously lately than we are doing. Lives are at stake. It is gratifying that till now there have been no reported deaths, but I am sure there have been injuries and some major health crises arising out of this one.

Floods In Tongu Distrtics

"Even the destruction of the livelihoods given the times we are in and the economic hardships we face, it's unbelievable! It is clear that there was inadequate preparation. It did not appear that the authority concerned gave any guard to the suffering and pain that this would cause. And I don't think that that kind of conduct or behavior ought to be countenanced any further. People have to live up to their responsibilities."

Felix Ofosu-Kwakye
However, he admitted that the spillage was necessary to secure the integrity of the dam but it cannot be accepted that nobody could have predicted this or projected the level of impact and devastation that this would cause. He believes such predictions could have aided in averting the situation.
Mr. Felix Ofosu-Kwakye appealed that higher authorities with more resources should urgently intervene to salvage the situation.
READ ALSO: Ghana's New Oil Find, A Missed Blessing?