The Minister for Lands and Natural Resources, Samuel Abu Jinapor, has noted that the survival of the 5 million trees is important than its planting.
Speaking on the Green Ghana Project,;he said the nurturing and care given to these plants will ensure their rate of survival.
He revealed that the regions across the country embraced the project and have participated in making the project a success.
"Mr. President, reports from all the regions indicates that Ghanaians have responded to your call and are actively planting trees."

Samuel Jinapor
The Minister also indicated that the exercise is a national and a non-partisan one which everyone must participate in. He said the yearly exercise will see an increase in the number of trees which will be planted across the country.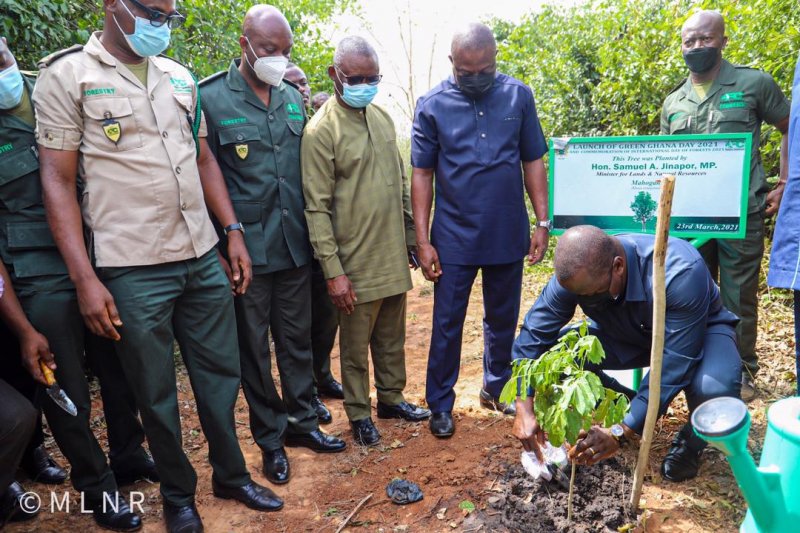 Mr. Samuel Jinapor further revealed that a Green Ghana club will be set up in the various educational institutions to encourage others to join the good cause the project seeks to achieve.
Green Ghana day to be incorporated in academic calendar
Mr. Jinapor also intimated that the Green Ghana day project will be incorporated into the academic calendar of students. Additionally,;he stated that this is in efforts to ensure the sustainability of the project which is aimed at restoring the country's lost forest cover.
"Green Ghana class in our educational institutions will be set up to support efforts of the government."

Samuel Jinapor
Nonetheless, he gave an assurance that the current government,;through various policies and interventions, such as the Green Ghana initiative, will salvage the situation of forest cover depletion.
"The guiding principles of the green Ghana day as envisioned by the President of the republic,;are as follows: we seek to plant 5 million trees. The event will be a yearly exercise with increases in the number of trees,;each Green Ghana day with the goal of 100 million trees being planted in a day all;within the second term of the Akufo-Addo presidency."

Samuel Jinapor
He also made known that economic trees such as;neem, wawa, mango, orange, coconut;amongst others will serve as both forest cover and investment to contribute to the growth of the economy.
Government engaged in climate finance actions
Mr. Ken Ofori-Atta, the Minister of Finance, also on the Green Ghana Project reveals government and its stakeholders have been engaging in Climate Finance actions to support the transition towards a low-carbon economy to ensure environmental sustainability.
Mr. Ofori-Atta noted that the reality of Climate Change was glaring to all to take a collective action to address the phenomenon. Also
"We are all witness to the erratic weather pattern and extreme weather events that have become prevalent across the world."

Ken Ofori-Atta
He said the country experienced severe droughts or floods and higher temperatures, resulting in real socio-economic ramifications to the country's food production and security.
The Finance minister further said the initiative would allow the country to increase the number of trees to create a healthier and serene micro-climate, improve air quality as well impact positively the nations' water quality. Also
Read Also: Build infrastructure to reap benefits of industrialization – Dr. Manteaw