The BET Hip-Hop Awards is known for recognizing the best artists in the genre, artistry, and the undeniable influence the song has on people. It also reflects the artist's outstanding contributions to the global hip-hop community.
Ghanaian sensational rapper Mohammed Ismail Sherif Kwaku Frimpong, professionally known as Black Sherif, once again made waves in the music industry as he secured the nomination for Best International Flow at the 2023 BET Hip-Hop Awards, and this happens to be his second time, having been shortlisted in 2022.
The rapper has received numerous awards like Most Popular Song of the Year, Artist of The Year, Best Collaboration of the Year, and Entertainment Personality of the Year, among others.
Black Sherif discovered his passion for music while in school and officially launched his music career in 2019 with the release of "Cry For Me". He is nominated alongside some of the biggest names in international hip-hop, including U.K. rapper Central Lee, French rapper Gazo, and South African rapper AKA.
His song "First Sermon" which was released in May, initially brought him to the limelight in 2021 and it was followed up with the "Second Sermon". Black Sherif finds himself in a category that recognizes the most exceptional talent in the industry.
The iconic star's hit single "Kwaku The Traveller", reached Number 1 on Ghanaian and Nigerian Apple Music with its video viewed 17 million times. He then released his debut album, "The Villain I Never Was", in 2022.
In his collaborations, he has worked on songs by Sarkodie, Stormzy, Amerado, DJ Breezy, Larry Gaaga, and others. The music star performed at the 25th anniversary of the Music of Black Origin (MOBO) Awards, which took place at the OVO Arena in Wembley, London.
Recognized for his melodic and infectious tunes, it can be recalled that the Movie Director, Mr. Sammy called on the reigning star, Black Sherif, to make adjustments to his management team due to their poor marketing skills to be able to meet his caliber as a musician.
Earlier, on 11 April 2022, Black Sherif was sued for allegedly breaching his contract with Empire after signing a deal. Disclosing how he met Burna Boy, the internationally acclaimed superstar, Black Sherif said Poco Lee played his song to Burna Boy and that was when he [Burna Boy] showed interest in the artworks of Black Sherif.
Black Sherif's electrifying stage presence and energetic performance have garnered him so much attention from the public. Fans eagerly anticipate his potential victory on his nomination.
Concerns about Nigel Gaisie's prophecy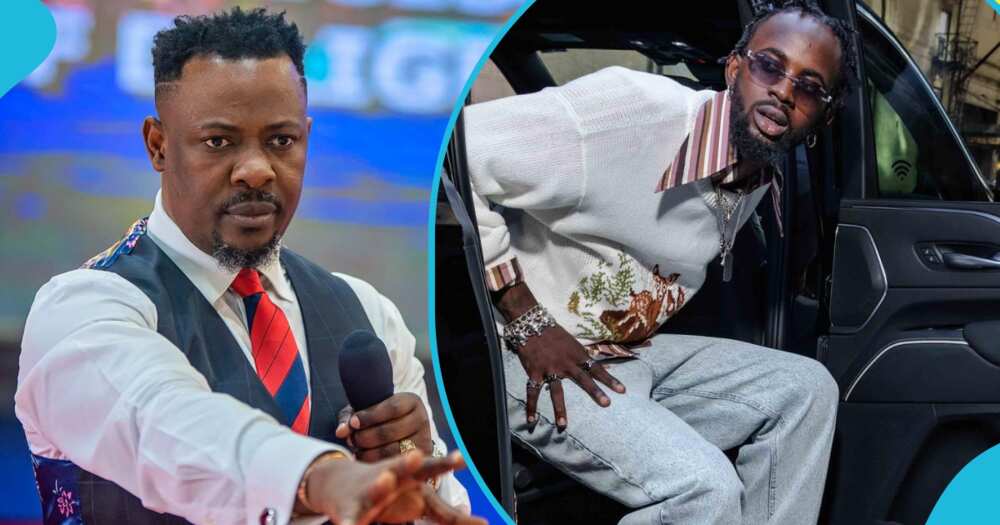 Founder of True Word Prophetic Fire Ministries, Nigel Gaisie dropped a prophetic message for Black Sherif's family concerning his life.
According to him, he saw Black Sherif's mother wailing in a vision, adding the timeline to the prophecy that the rising star may lose his life if his family does not act upon what he saw. He shared on social media:
"Let the family of Sheriff Black pray for him and talk to him deeply. I didn't like what I saw about him a few minutes ago. Life is priceless. I saw the mother wailing uncontrollably (if nothing is done about this, Ghana may not hear good news before December)", Nigel Gaisie wrote.
He later clarified that his recent prophetic vision he shared was about a Ghanaian star named Sheriff Black, not Black Sherif as previously mentioned.
Most prophets in Ghana are known for prophecies about the death of celebrities. For example, it was revealed that Ebony Reigns would die at the peak of her career.
Arnold Asamoah-Baidoo, an entertainment pundit expressed his view that it is inconsistent for prophets to frequently share negative prophecies without offering positive ones and questioned why these prophets didn't have positive revelations about individuals like Black Sherif when they were still striving for success in their careers.
The pundit also revealed that Nigel Gaisie is trying to play a quick trick on Ghanaians. "My point now is, Whos is Sheriff Black? Prophet Nigel is trying to play a quick one on us. There is no Sherif Black, let's be careful and rise above such shallow conversations", Arnold Asamoah-Baidoo said.
Many people were disappointed with the man of God's turn on the Black Sherif's prophecy.
"Ei so the pastor thing, do you just use your mind? How can you tell me this story?", Quame-sika Obibini commented.
"Herrh, how can you tell me this story?", Os Man commented.
"Playing mind games", Ernest Ohemeng Danso commented.
READ ALSO: Tonto Dikeh Slams Naira Marley