A young man organized a birthday party at a cemetery and this has sparked several reactions on social media.
Birthdays are special moments in one's life, and this young man sure made his an unforgettable one. In a video making rounds on the internet, the celebrant was seen adorned in 'kente', while guests who graced the event were captured in all-white attire.
A high table decorated with champagne, drinks, and a cake was placed between the tombs and the celebrant was seen with a knife, ready to cut his cake. Interestingly, there were no seats so, some guests relaxed on the tombs.
Reactions on social media
The bizarre video for obvious reasons sparked so much controversy on social media. While some were wondering what could have led to this unusual action, others didn't seem to have an issue with the whole phenomenon. Others also used the opportunity to make jokes out of the situation.
One social media user, June Konadu Thursday said: "They are lucky the cemetery is in town so they were able to feel comfortable. Imagine this birthday party at some village cemetery, it would have been like temple run," in relation to a famous spooky video game.
Another social media user, priscillaaryee702gmail.0 suggested that maybe the theme of the party was "If you remember your birthday, then you have to remember your death day". She also complimented the unidentified celebrant saying "nice bro, remember that they're [the dead] like us".
Another social media user who was displeased by the strange moment said: "The next thing is their corps being carried to that place by that same people".
Amandi Asare also suggested that people shouldn't be quick to condemn the action. According to her, "we should be asking questions like, is it good to eat at the cemetery or not? We can ask our grandparents and parents".
Another social media user, Osaah commented: "Until I understand the concept behind this, I won't condemn this," and she received a response from Itz_los_nana_abena, who she said: "Obviously a ritual".
Social media user, Collinzz also joked about the issue as he said: "They needed to do the party in the evening around 10:30 pm to 11:45 pm and see whether they can come back home".
Ad10_ace also commented: "Imagine a ghost just came out of nowhere and started hunting them".
Is This a New Trend?
Well, it seems having a burial-themed birthday party has become the recent trend. Just recently, a lady stormed the venue for her 30th birthday party in a coffin.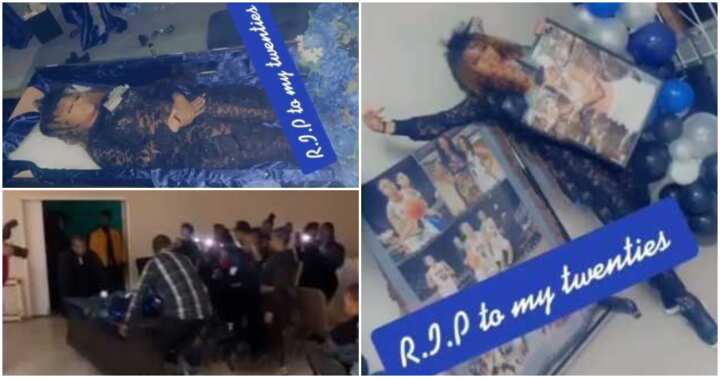 Dressed like a deceased in a black outfit only, the lady laid in the coffin with her eyes closed. In different photos from the occasion, the lady is seen striking a pose with an old frame of hers as well as a collage of old photos. Guests all rocked different styles of black outfits and accessories as they felicitated the lady who bid farewell to her twenties.
Read also: Bono Regional House of Chiefs Commend Prez Akufo-Addo On Phase 1 Completion of Sunyani Airport