The popular Ghanaian pallbearers, Nana Otafija Pall-Bearing services, have announced that they will be donating $250,000 to Ukrainian Charitable Foundation, after they bagged $1 million for selling their 10-second video meme.
The pallbearers, out of generosity will be donating 25% of the sale of their meme to the Ukrainian Foundation to support Ukraine amidst the invasion it faces from Putin.
In a video circulating online, Benjamin Aidoo, who is the leader of the pallbearer's group, said: "We will like to announce that we would transfer twenty-five percent of the funds from the sale of our memes at the NFT auction to the Ukrainian Charitable Foundation, Come Back Alive, to support Ukraine and its great people".
On April 7, 2022, the viral video meme of the Dancing Pallbearers was digitally turned into an asset by the group and it was auctioned as a Non-Fungible Token (NFT).
According to reports, a company, 3F Music, which is home to a number of recording studios worldwide based in the Middle East, bought the Coffin Dance meme for $1,046,079.54 as the highest bidder on Saturday, April 9, 2022.
In 2020, the Prampam based pallbearers become social media sensations when videos of them went viral globally after they surfaced online. In the short video, the group is seen showing off their casket-carrying skills while orchestrating a choreographed routine, lifting and lowering caskets, and even sitting on the floor if need be. Their video became a hit that sparked a global trend during the outbreak of the COVID-19 pandemic. Their images and videos were used as memes to caution people to stay home or "find themselves dancing with Nana Otafrija".
The group has been in operation for quite a long time now and became more popular when they were interviewed by Aljazeera and BBC News.
Nana Otafrija Pallbearers charge double
The pallbearers, during the peak of the pandemic, averred that they will charge the double price of their normal price for someone who died after contracting the coronavirus.
In an interview, the leader of the group, Benjamin Aidoo, said the group does not mind if someone dies as a result of contracting the coronavirus, however they will charge double the price.
The 'Dancing Pallbearers' or 'Dada Awu' as they are called on social media charge by the style either solemn or with display and by the attire they use for the funeral.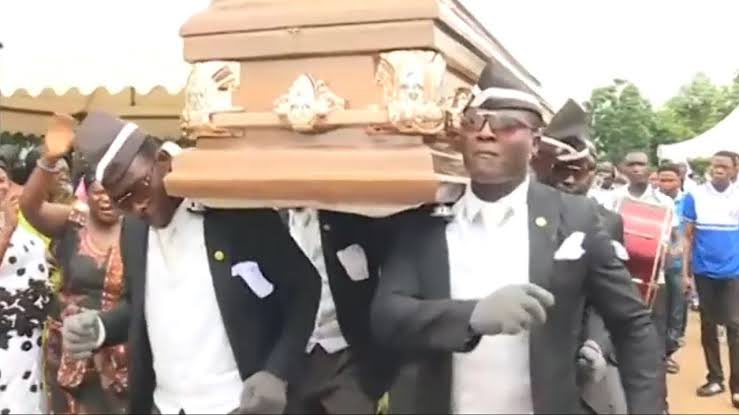 Benjamin also claimed that they are charging in dollars now that they have become "more than celebrities". He was however quick to note that they pray to God while at work but do not pray for people to die.
"We're going to charge twice the price we take if the person died of coronavirus. Our pricing includes what you want us to do at your funeral. If you want us to display, it comes with charges, and even the dressing we use, we charge for that. We pray we get more business but not for people to die".

Benjamin Aidoo
Read also: Computerized School Placement: Over 94% of Students Have Been Placed- Education Ministry PRO