A CCTV footage that is currently making rounds on social media shows moments when a witch was captured performing rituals and chanting in front of a house.
The witch, who was unaware she was being captured appeared out of nowhere in front of the house with a broom and started performing some sort of rituals on the compound of the house. She was dressed in all an white with her face completely covered.
The witch moved around the house and later appeared to be holding what many have described as a baby. She later returned the baby after chanting and dancing around for a while. She then returned and sat on the broom and disappeared after finalizing the ritual process.
Some reports indicate that the tenants of the house kept hearing some noise at the house every night and decided to install a camera to monitor the cause of the noise they hear every night.
The tenants got the surprise of their lives after noticing that a witch was responsible for the noise, they hearing every night.
The viral video has now raised debates online with some questioning the authenticity of the video while others are calling out people who don't believe witchcraft exists. Others are also of the view that the video is just an editing upon critically scrutinizing the video.
A social media user under the name, @Rose, suggested that such powers should be used to rob banks instead of bewitching other people.
"Unfortunately, banks cannot do anything to them. This is a spiritual attack and banks don't have spirit." 

social media user
Another social media user, @Vickie said: "Normal level for Benin, Ijebu, and Rivers"
Social media user, @Fola also noted: "Those people that don't believe in spiritualism, oya come and scientifically explain this disappearance on CCTV. Is this one Bollywood?"
@Masai also indicated that "But come to think of it, there's power in praise o, they would ask some of us to sing, dance and praise the highest God, we would be forming, see as this one is dancing and praising whatever god he serves"
@Zulu shared: "If not for CCTV, the parent of that little kid wouldn't have seen this, there's nothing like prayer. Only prayer can deliver you from this evil one. Don't joke with vigil because that's also their prime time".
@Roro prayed: "May God Almighty deliver that child. There is Life inside this Life… May God's protection be upon us and our households. Amen".
@Lizzy, who was in disbelief wrote: "Cameras can't capture a witch, stop fooling yourselves".
@Redeemer also said: "The ingenuity of the black man in the so call 'black magic' could be channeled to something innovative & beneficial instead of inhibiting progress".
@Ladi wrote: "I think black people have their own God and will be judged differently. Well, this is hard to believe. However, nothing is impossible. Ghost activities have been caught on cameras so this may not be out of place".
@Omalisha shared: "Fake!! First, the car's plate number is blurred out, when the witch move past the plate number you could notice her passing through the blur. I have no idea CCTV tape can be edited to blur out a piece of information. The audio from the video sounds like a loop. Especially the fire service siren".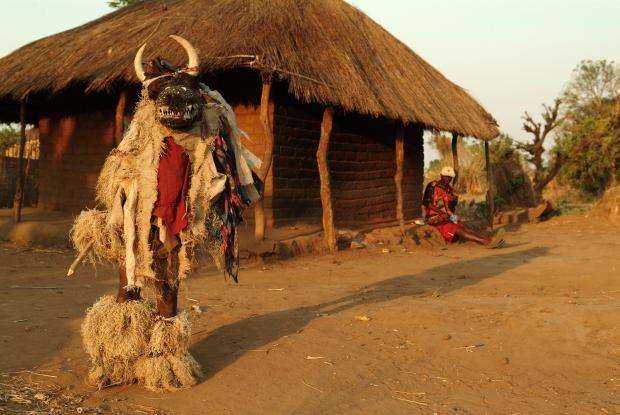 Fake or not, genuine or not, witchcraft has been deeply rooted in African culture according to some research. It can be traced back to hundreds of years ago. Even though the perceptions surrounding witchcraft may differ from country to country, the commonality of this phenomenon is that it shouldn't be taken lightly. Therefore, it will be advisable for residents of the video to take quick actions to either reverse what has been done by the witch or clear the evil deed entirely.  
Read also: We look forward to Some Relief for Road Vehicle Users- Oppong Nkrumah on Budget Reading