Law enforcement agencies are battling to crackdown on foreign-linked criminal syndicates as the counterfeit pharmaceutical industry is thriving in West Africa.
It is rare to have a conversation in Nigeria about the problem of falsified medicine without a mention of the My Pikin syrup tragedy.
In 2009, 84 children were killed by a batch of teething syrup that contained diethylene glycol, an industrial solvent and ingredient found in antifreeze and brake fluid. Two employees from the company which made the syrup were found guilty by a court.
More than 30 million counterfeit tablets shipped from India were seized in one week in Lagos
---
'Bad drugs'
The case was significant as convictions for manufacturing or selling falsified medicines remain uncommon in Nigeria.
Dr. Roberts said, "that's the one that got into the papers. We've had numerous issues".
Dr. Roberts, a senior lecturer at Lagos University Teaching Hospital, is lucky that the hospital has a robust drug procurement system and they do not have problems with falsified medicines, although they do see patients who have encountered bad drugs.
She is concerned there may be more in the coming months due to the effect Covid-19 is having on the supply of drugs in Nigeria.
"There are shortages looming – cancer drugs, antibiotics," Dr. Roberts said.
When hospital pharmacies go out of stock, patients will purchase drugs elsewhere, often from unregulated markets.
Street sellers peddling drugs is a familiar scene across West Africa – where in many countries the sale of pharmaceuticals is more a trade than a profession.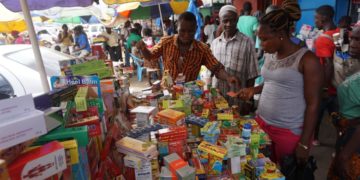 The lack of regulatory oversight is one of the reasons why the region is so attractive to criminals in the business of falsifying medicines. And in West Africa it is a big business.
The criminals have been keeping the head of the Intellectual Property Rights Unit at the customs service, Mohammed Babandede, and his team busy of late as the pandemic has created the perfect storm for fake medicines to flourish.
"It is really scary," he said, adding that in one week more than 30 million counterfeit tablets had been seized.
He explained that authorities in India had provided intelligence on a shipment coming into Tin Can Island Port in Lagos, the commercial capital.
Powerful networks
The consignment included significant amounts of counterfeit dexamethasone – a medicine believed to treat severe Covid-19 symptoms.
In the same week, he also intercepted 920,000 fake tramadol tablets at Lagos airport that had come from India's main city, Mumbai. These pills were likely destined for markets in northern Nigeria where abuse of the drug is rampant.
Matter of life and death
With under resourced border teams and large porous borders, authorities have their work cut out.
Mr. Van den Berghe said, "we are ramping up our operations, focusing on more border crossing points to respond to the efforts of these criminals".
With an estimated 116,000 deaths a year caused by substandard and falsified anti-malarial drugs in sub-Saharan Africa alone, these operations could be a matter of life and death.
Yet, experts warn that if the overall war against fake medicines is to be won, more must be done to ensure access to healthcare for all.
Dr. Gernot Klantschnig, a senior lecturer in International Criminology at Bristol University in England said, "there must be a parallel effort to fix vulnerabilities in health markets in West Africa; in some countries, wealth has become a determining factor for gaining access to quality healthcare and drugs".
"Hopefully the weaknesses in health systems Covid-19 has further exposed will lead governments to prioritize ensuring every citizen has access to safe and affordable medicines".

Dr. Gernot Klantschnig