A funeral ceremony for President Idriss Deby has been held in Chad's capital, N'Djamena, with thousands of people attending to pay final respects to the leader. President Deby died of wounds sustained while leading his troops against a rebel offensive.
French President, Emmanuel Macron and African leaders including Nigerian President, Muhammadu Buhari were present at the ceremony;despite rebel warnings they should not attend for security reasons.
Other visiting heads of state at the ceremony included the Presidents of Guinea, Mali and Mauritania;who also ignored warnings from the rebels.
Speaking at the event, Macron pledged support for the country's "stability and integrity", and also urged the military rulers to steer a smooth return to civilian rule.
"The people of the region enjoy a peace pact with France. We have to make sure the pact lives on – and that of liberty and independence.
"France will not let anybody question or threaten, today or tomorrow, Chad's stability and territorial integrity. France will be here to ensure that the promise, which was;made;will be;realized;for all patriots. Stability, inclusiveness, dialogue and democratic transition – this is what we want. We are by your side".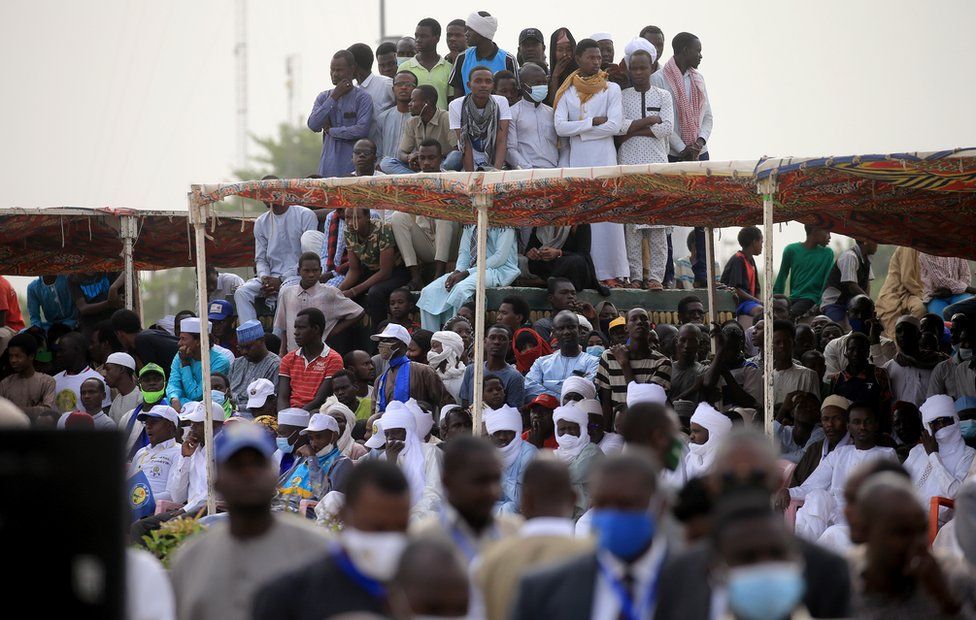 The ceremony also saw a military match-past and a speech by the country's new leader, Deby's son, General Mahamat Deby.
He vowed to "stay loyal to the memory" of his father and;pledged;to continue the legacy of "dialogue, forgiveness, peace, unity" that the late president was;"admired for".
After the military honours and speeches, prayers were;said;at the Grand Mosque of N'Djamena. Déby's remains were then flown to Amdjarass, a small village next to his hometown of Berdoba, more than 1,000 km (600 miles) from the capital to be buried.
Rebels prepare offensive
Meanwhile, the rebels blamed for the death of President Derby have indicated that they are preparing a new offensive towards the N'Djamena.
The Front for Change and Concord in Chad (FACT) said its forces were about 190 miles (300km) north of the capital, but would observe a pause in hostilities to allow time for Déby to be buried.
"We will let them bury him … It's a humane attitude" Sharfadine Galmaye, a spokesperson for FACT, said. firstly
Galmaye added that the rebels were willing to negotiate with the government to spare Chad further conflict.
"We do not want to rule.iWe will choose an independent person who would be acceptable by all people to rule. We want them to leave their positions without a fight … We do not want to hurt anybody".
The rebel fighters attacked Chad's northern border last weekend, timing their initial attack to coincide with elections on 11 April. Deby, a former army officer who often joined soldiers on the front lines, was mortally injured while visiting troops fighting the rebels.
He had been in power since 1990 with his death coming a day after provisional results indicated he had won a sixth term in office. The exact circumstances around his death still remain a mystery.
Read Also: Over 4,000 cyber fraud incidents have been flagged- Ken Ashigbey