The United Nations Humanitarian Director, Martin Griffiths has said that, Sudan appeared to be engaged in a civil war "of the most brutal kind" and that there should be a news platform of negotiations that would finally bring a sense of peace in Sudan.
Following the failure of the Jeddah peace negotiations, Martin Griffiths addressed a gathering of regional leaders in Ethiopia, and reiterated the United Nation's desire to bring a lasting solution to Sudan's conflict. However, with few details, Egypt has agreed to host officials from Sudan's neighbors, to facilitate a new peace process.
"We don't have a place, a forum, where the two parties are present where we can broker the kind of basic agreements that we need to move supplies and people."

Martin Griffiths, Under-Secretary-General for Humanitarian Affairs and Emergency Relief Coordinator.
In terms of accessibility, Griffiths dubbed Sudan as the most difficult country in the world for aid workers, and issued a dire warning that the problem would only get worse as the battle moved to new regions.
"We have to re-create the architecture that we had for a little while in Jeddah," Grifiths claimed with regards to the Saudi-US led mediation. He described the talks as "very clunky, very time consuming," and added that "it did produce some real movements" in terms of easing aid provision.
After violence erupted between the Sudanese Army and the paramilitary Rapid Support Forces, on April 15, Sudan has been in chaos since, and no glimpse of peace has been shown toward deflating the escalation.
Moreover, there have been at least ten brief cease-fires between the Army and RSF, the irony is that, none of them have succeeded. In adjourning discussions, Riyadh and Washington condemned the two sides of breaching the accords.
Sudan's Health Minister, Mohammed Ibrahim, stated last month that, the battle has claimed the lives of over 3,000 people and injured over 6,000 others, but he cautioned that, the real number of fatalities could probably be much greater and over 2.9 million people have been forced to flee their homes.
"If I were Sudanese, I find it hard to imagine that this isn't a civil war of the most brutal kind. Part of that is it's not limited to one place, it's spreading, it's viral, it's a threat to the state itself and if that doesn't qualify for being a civil war, I don't know what does."

Martin Griffiths, Under-Secretary-General for Humanitarian Affairs and Emergency Relief Coordinator.
According to Griffiths, it is urgent to establish a platform that would make it easier for humanitarian agencies to get access to impacted regions and for local fighting to stop so that supplies and vehicles can enter these areas. He believes that, humanitarian groups should be given greater recognition in any new conference.
Furthermore, with civilian residences taken over and converted into operating camps, RSF troops in Sudan's capital look to have an advantage in public areas. In retaliation, the army has carried out air assault that have occasionally hit medical facilities as well as civilian targets.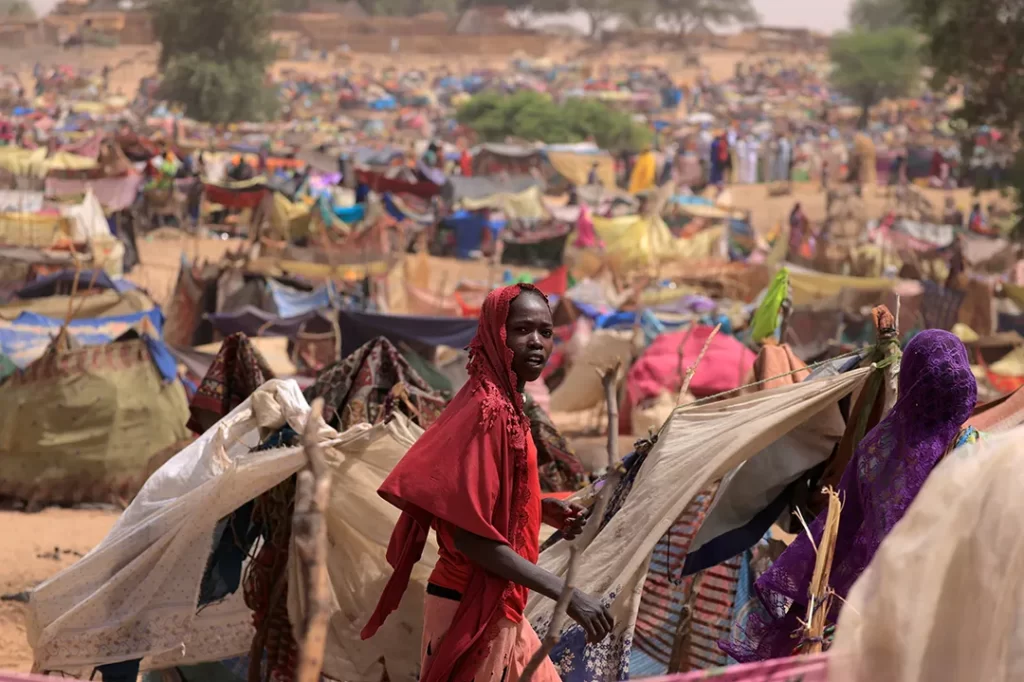 Tens of thousands of people have been compelled to flee to neighboring Chad as a result of whole villages being seized by RSF militants and their affiliated militias in the western Darfur region, the conflict's other hub.
According to U.N. authorities, ethnic warfare has arisen in the region of West Darfur as a result of the conflict, with the RSF and Arab militias allegedly focusing on non-Arab communities. According to activists and tribal officials in the province, people have been executed, women and girls sexually assaulted and property has been plundered and torched.
READ ALSO:Erdogan Lays Condition For Sweden' NATO Bid Approval