Ahead of the Vilnius summit, one major bone of contention, that the alliance would have to resolve, is Ankara's approval of Stockholm's membership bid. However, Recep Tayyip Erdogan, the President of Turkey has laid down the condition that could persuade his nation to second to Sweden's NATO membership bid.
The President stated, while departing f or Vilnius Lithuania, that, Turkey will only succumb to Sweden's bid, if European nations "open the way" to Turkey's EU bid.
"Turkey has been waiting at the door of the European Union for over 50 years now, and almost all of the NATO member countries are now members of the European Union.
"I am making this call to these countries that have kept Turkey waiting at the gates of the European Union for more than 50 years. Come and open the way for Turkey's membership in the European Union. When you pave the way for Turkey, we'll pave the way for Sweden as we did for Finland."

Recep Tayyip Erdogan
Ankara has aimed to be part of the EU bloc, but their membership has been blocked due to democratic backsliding of the country, and also Turkey's longstanding diplomatic tensions with EU's member Nikosia, Cyprus.
At the early hours of today, Sweden's Foreign Minister, Tobias Billstrom expressed his optimism that Turkey would refrain from its stance against Stockholm, ahead of the annual summit in Vilnius.
He added that, he believes Turkey would ultimately produce an indication that it will allow Stockholm to join the alliance, though he was unable to predict if it would take place at the annual meeting.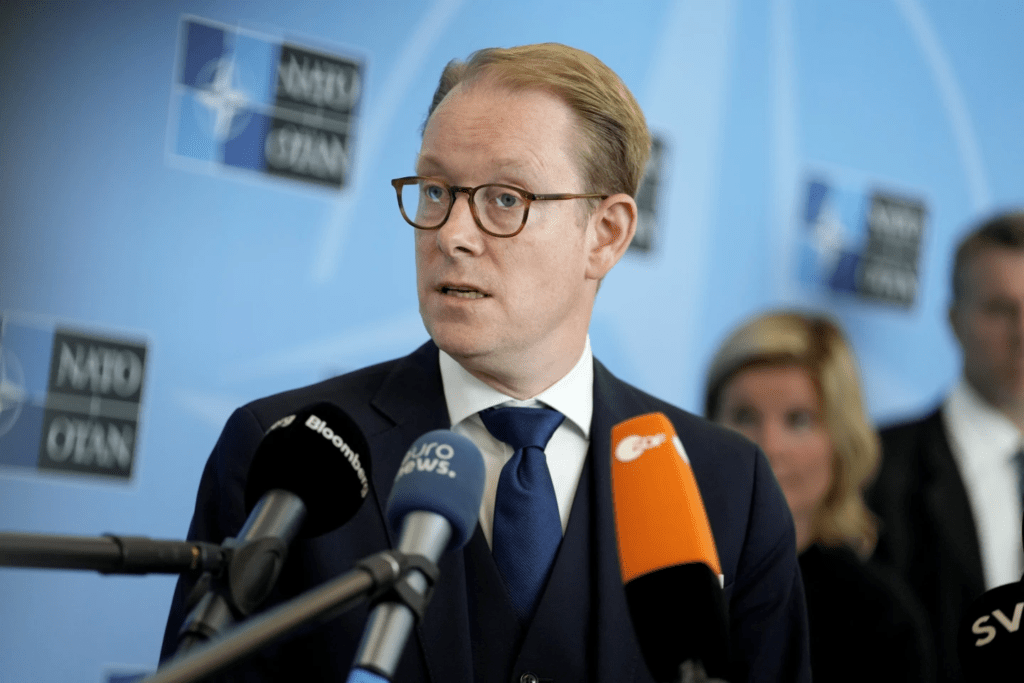 "What we are counting on, of course, is to reach a point where we get a message back from President Erdogan that there will be what you might call a green light, a message that the ratification process in the Turkish Parliament can start," Billström said.
Sweden's attempt to join NATO has been stalled by Turkey, which claims that, Stockholm must take further action to combat Kurdish insurgents and other organizations that it sees as an obstacle to its security. Demonstrations against Islam and Turkey in Stockholm cast suspicion on whether a deal could be struck before the alliance summit.
Billstrom reiterated that, Sweden has fulfilled all the obligations in the tripartite deal that involved Ankara and Helsinki, during last year's summit in Spain.
"We should consider it as a settled question in the sense that it is not a question of if. In connection with the NATO summit in Madrid last year, Turkey already gave Sweden status as an invitee to NATO. It is therefore a question of when."

Tobias Billstrom
The Swedish Foreign Minister also said that, he expects Hungry, who as has also played some defiance in Sweden path, to approve its membership.
The Danish Prime Minster, Mette Frederiksen said, "Finnish and soon Swedish membership of the alliance is a historic milestone for NATO, the Nordic region and Denmark's security. And there is no doubt that they will strengthen the security of the allies."
Sweden and Finland dropped their non-alignment status to persue NATO membership, after Russia began its invasion of Ukraine.
READ ALSO: Biden Promises More NATO Spending To Cushion Ukraine