Nigerian musician Iyanya has recounted how beautiful his previous relationship days with Ghanaian actress and producer Yvonne Nelson was.
The Nigerian musician has been in Ghana for a while now and has also been granted interviews in some media outlets concerning his name mentioned in the memoir of the actress.
During the interview, he spoke about his relationship with the actress following the information shared in Yvonne Nelson's memoir about why their relationship ended. He also shared his experiences during the time of their relationship.
In his words, he spoke about how addictive Yvonne Nelson was when they were together.
He said:
"We both had a serious relationship. That was my girl and our relationship was beautiful. You know, when you're with her, it is quite addictive, you just fall into it and you wouldn't know anything about it".

Iyanya
'Your Waist' hitmaker, during an interview revealed that his good relationship with Yvonne made him tattoo her name on his wrist so that he can always remember her for that. He also said that they both planned on getting married in the future during the time they were dating.
He said:
"Yes, I envisioned a future with Yvonne Nelson and I knew that she was the one that is why I did a tattoo of her on my arm but I don't have it now. I had to put another one on it but it was a beautiful experience".

Iyanya
The assumed inseparable couple broke up after three years of their romantic relationship.
Iyanya wishes to have a sit-down-conversation with Yvonne Nelson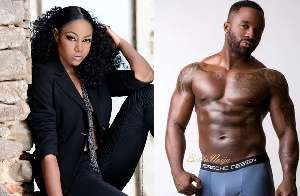 The Nigerian musician Iyanya revealed that he was hurt when he heard about the contents of Yvonne Nelson's memoir concerning him and wished to have a sit-down conversation with her.
He said:
"Yvonne is a sweet girl. I'm sure the book is doing well, obviously, because everybody is talking about it. I don't feel good that I have to sit down on the radio and talk about it because it's very emotional. I wish Yvonne Nelson and I could sit down and talk about it".

Iyanya
During an interview, he showed remorsefulness for separating from the Ghanaian actress, Yvonne Nelson.
He admitted that his soul was connected to her and a part of her was with him everywhere he went.
He said:
"If I was dating her, I would just focus on her. Back then, I used to lie to her because my career took priority. Everything else came second".

Iyanya
He added that:
"I also feel like, at the end of the day, she is healing. Let's not forget that too, whatever it is. But what we all need to understand is that everybody has been through ups and downs, and being famous comes with the territory".

Iyanya
The 'Your Waist' hitmaker asserted that he will not share any details concerning the actress.
When asked if he will provide personal details should he release his own book, Iyanya answered in the negative, stating that he will also take people's names out.
He said:
"I'll just tell you about my life and challenges as a human being and how I overcame them. I don't have to tell you about who I had this with and that. I guess we're all different people".

Iyanya
Before granting the interviews, he wrote:
"Y'all waiting for my side of the story? If I talk now, I'll be accused of kissing and telling, sluts shaming, etc. But something gat [sic] to give, so wait for it".

Iyanya
Yvonne Nelson's memoir, "I Am Not Yvonne Nelson" is an account of a young woman who sets out to discover herself but finds out that she has been living with a false identity.
READ ALSO: Adjetey Anang's 50th Birthday Dinner & Book Launch