Imposing sanctions on Russia's oil and gas industry is still a possibility, as White House Press Secretary Jen Psaki indicates Washington is "very open" to such discussions, adding that it is weighing the possible impact on global markets and U.S. energy prices.
Though previously, U.S. sanctions did not include playing the energy card, Russia's disregard for calls to back down from the war against Ukraine and the seemingly unhurtful slew of sanctions to its economy thus far, appears to have triggered the need for this next step.
Responding to queries about whether or not Washington and its Western allies would slap sanctions on Moscow's vast energy sector, Jen Psaki in an interview with MSNBC, said: "We're very open."
"We're considering it. It's very much on the table, but we need to weigh what all of the impacts will be," she added.
While this remains the single most intense measure on Moscow, it also may cause rippling effect on oil and gas prices across the globe, especially Europe and the U.S., Psaki clearly pointed out, adding that Washington's top priority was to minimize the impact at home, according to CNN.
"What [President Joe Biden] does not want to do is topple the global oil markets or the global marketplace or impact the American people more with higher energy and gas prices."

Jen Psaki, White House Press Secretary
Interim measures to stave off such a heavy blow to the global energy market by the U.S. in the scenario that Russia weaponizes its oil and gas sector involved President Biden's request for major oil consumers to release strategic oil reserves. To this effect, the U.S. and its allies agreed to release 60 million barrels of oil reserves to offset supply disruptions.
More Sanctions to Come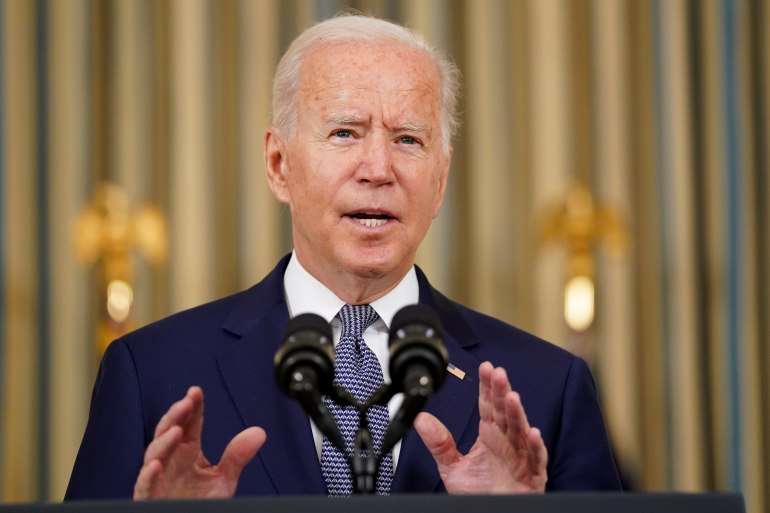 Some oil majors operating within Russia's oil and gas industry such as Shell, BP and Exxon Mobil have made plans to exit the industry. Investors' response to these actions have further made the sector very shaky. Today, the Russia-Ukraine crisis has surged energy prices to eight-year highs, currently above $110 per barrel, nearing the $125 per barrel mark.
Meanwhile, the U.S. is preparing another bout of sanctions targeting more Russian oligarchs as well as their companies and assets, according to a source close to the matter who spoke to Reuters.
Despite the skyrocketing prices and the ramifications of the Russia-Ukraine crisis, the Organization of the Petroleum Exporting Countries members and Russia (OPEC+) agreed once again to stick to their existing plan of gradually increasing output by just 400,000 barrels per day per month.
The cartel said in a statement "that current oil market fundamentals and the consensus on its outlook pointed to a well-balanced market, and that current volatility is not caused by changes in market fundamentals but by current geopolitical developments," adding that its next meeting will be March 31, 2022.
As the war prolongs, the U.S. contends that it will not send troops to fight Russian forces in Ukraine, but will explore tougher sanctions, placing "everything on the table", Vice President Kamala Harris said in an interview on Wednesday, March 2, 2022.
READ ALSO: 2022 PFJ Implementation Guidelines To Push real Prices of Inputs Higher- Zuobog Neri