Countries have adopted all sorts of methods in punishing offenders. Death Penalty has been one of those, that is pronounced on law offenders, whose crimes demands death sentence. Several Human Right groups have criticized the use of capital punishments, as method of serving justice to victims.
According to Amnesty International, the death sentence violates number of human rights, including the right to life and the prohibition against torture and other cruel, inhumane, or degrading treatment or punishment. The Universal Declaration of Human Rights, that was adopted by the UN in 1948, guarantees both rights.
Also, International Human Rights legislation forbids the use of the death sentence for crimes committed by people under the age of eighteen, but several nations have employed death penalty in some circumstances.
According to Amnesty International, about 883 people were executed last year as a result of death penalties. This has become the highest of executions in last five years, raising concerns for capital punishment for drug offenses.
According to Amnesty International's annual report on the use of the death sentence, the number of executions, which excludes the thousands believed to have taken place in China, rose by more than 50% from 2021 to this year.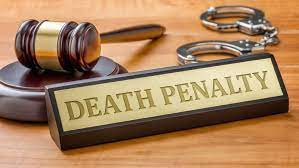 Amnesty International's data concludes that, about 90% of death penalties in the world, were carried out by three countries in the Middle East and North Africa. In Iran, about 576 were executed last year, and 314 people in 2021. Saudi Arabia executed 196 people, 65 in 2021, and Egypt killed 24 people, all via death penalty. It is therefore to notice that, Saudi Arabia's executions happens to be the highest recorded in over 30 years.
"Countries in the Middle East and North Africa region violated international laws as they ramped up executions in 2022, revealing a callous disregard for human right," Amnesty International's General Secretary Agnes Callamard said.
"The number of individuals deprived of their lives rose dramatically across the region; Saudi Arabia executed a staggering 81 people in a single day. Most recently, in a desperate attempt to end popular uprising, Iran executed people simply for exercising their right to protest," she added.
Twenty nations were known to have executed people last year, and five of those nations have already resumed their practice. One of these is Myanmar, whose military government shocked the world last July by hanging four of its political rivals, in the country's first execution since the 1980s.
Moreover, Amnesty International reported that, 255 executions in Iran, 57 in Saudi Arabia, and 11 in Singapore occurred for drug-related offenses, accounting for nearly 40% of all executions last year. The use of the death sentence is still a state secret in China and Vietnam, where executions for drug offenses are also likely to have taken place, it continued.
According to international human rights law, nations that still have the death sentence must only apply it to "the most serious crimes" that entail deliberate homicide. "It is time for government and UN to up the pressure on those responsible for these blatant human right violations, and ensure international safeguards are put in place," Callamard averred.
However, six nations have either completely or partially repealed their death penalty. They include Zambia, Kazakhstan, Papua New Guinea, Sierra Leone, the Central African Republic, and Equatorial Guinea. Whiles the governments of Sri Lanka and the Maldives said they would not use the death penalty, Liberia and Ghana began legislation to repeal their law concerning death penalty.
Malaysia has also moved to do away with mandatory death penalty. "As many countries continue to consign the death penalty to the dustbin of history, it's time for others to follow suit. The brutal actions of countries such as Iran, Saudi Arabia as well as China, North Korea and Viet Nam are now firmly in the minority. These countries should urgently catch up with the times, protect human rights, and execute justice rather than people," Callamard explained further.
READ ALSO: Army Chief Freezes RSF Bank Accounts