On Monday, October 2, 2023, the new Director-General at the International Organization for Migration (IOM) laid out her plan for dealing with migration and emphasized its economic advantages.
Amy Pope, an American, officially took over on Sunday, October 1, 2023, from Antonio Vitorino of Portugal, her former Boss.
The IOM has only had two non-American Directors-General since its founding in 1951.
Pope becomes the first woman to head the UN's migration agency.
In her first press conference, Pope stressed that migration can boost economies of the countries receiving migrants by providing well-needed workers or new innovation.
"The evidence is fairly overwhelming that migration actually benefits economies," she noted.
Pope iterated, "Migration, on the whole, is a benefit. That's not to say that the rhetoric around migration reflects the fact that it is a tremendous benefit."
"Our number one goal is to really harness the benefits and the promise of migration, and it's my belief that when we work together with communities, when we work together with governments, we can start to build out ways to find opportunities for people who are on the move rather than just treating the issue as a problem to be solved."

Amy Pope
"The difference today is that 30 of the biggest economies have experienced very significant labor shortages — and we are seeing it everywhere," she said.
The new IOM Chief added that agriculture, construction, health care and hospitality were among the sectors affected.
"We hear from … the private sector globally, but especially in Europe and in North America, that they are desperate for migration in order to meet their own labor market needs and in order to continue to fuel innovation within their own companies."

Amy Pope
As such, Pope asserted that it's critical that the IOM begins to engage "these partners who recognise the benefits of migration and demonstrate to our member states how that can work in a very pragmatic way, rather than in a political way."
In addition, Pope insisted that countries must ensure legal and proper "pathways" to migration, a longstanding call by U.N. institutions.
She noted that the agency's biggest concern is that the deaths in the Mediterranean have been normalised and that people take for granted that "this is just a cost of human movement."
"If we're really going to stop people crossing the Mediterranean on rickety boats and dying as they do so, we need to approach the situation far more comprehensively," she stated.
"Our first concern is changing the expectation, changing the narrative and really humanising the people we're talking about," Pope iterated.
"These are people first before we label them as migrants or asylum seekers or anything else and valuing their human life, recognising their dignity is key to everything we say and do."

Amy Pope
Pope To Visit Africa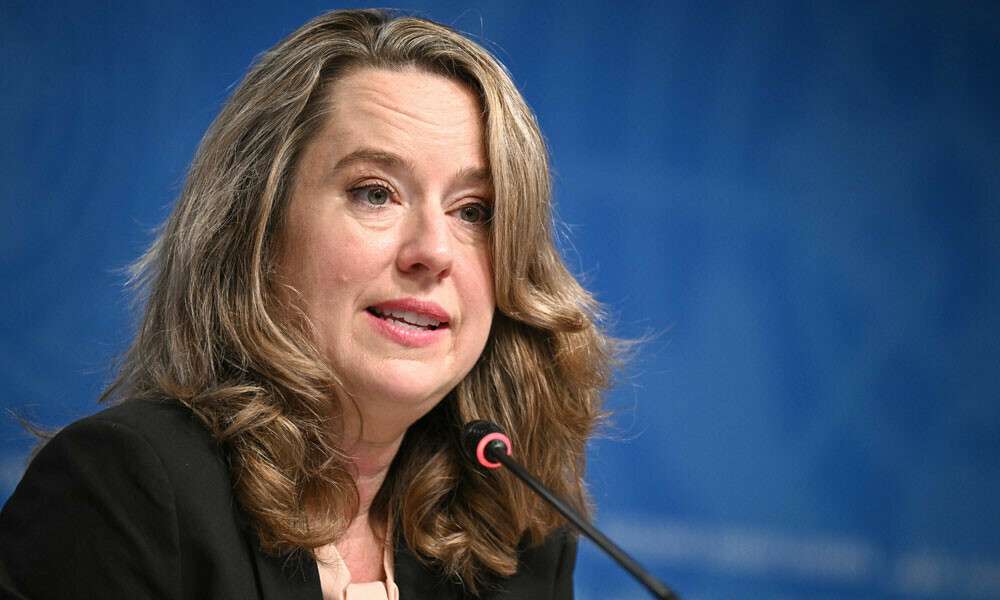 Moreover, Pope disclosed that her first trip abroad in the job will be to East Africa.
Drought and the impacts of climate change have driven many in East Africa to flee.
Pope asserted that over 80 percent of migration takes place in Africa, adding that her job was "not to focus just on south-to-north migration, which I know occupies a lot of the political space and a lot of the print space."
She made mention of the large number of African migrants heading for the Gulf, citing "very, very troubling reports" about their treatment there.
"Ensuring that there is better protection and access for migrants to services in that context is important," she added.
Furthermore, Pope highlighted shrinking humanitarian aid budgets, the need to draw in the private sector into the "conversation" to support migration, and signs that migration is set to continue to grow.
It is said that during her trip, Pope will visit the headquarters of the African Union in Addis Ababa, before meeting Ethiopian officials.
She will then travel to Kenya and Djibouti.
READ ALSO: Kuleba Voices Confidence In U.S Support