Health issues among the elderly and those with pre-existing health issues, are faced with serious risks due to a violent heatwave that has been passing through southern Europe, made worse by carbon emission in the atmosphere.
Stories covered by the media about the predicaments of tourists, collapsing in Greece and Italy, give an indication that, other countries are facing similar problems, even at an intense heat. According to data, Athens recorded 42C on Saturday, Seville on Monday recorded 41C and Rome on Tuesday saw 40C of heat.
Scientists claim that, hot air from Africa has been transported to Europe by an area of high pressure known as Cerberus. Meaning, warm air stores more moisture than cold air, which can result in hot and dry weather in some locations, and torrential rains and flash floods in others.
According to World Meteorological Organization meteorologist Alvaro Silva, the warming climates causes these extremes greater and more frequent. "By 2050, about half of Europe's population may face a high or very high risk of heat stress in the summer."
Due to the devastation of nature and the release of heat-trapping gases by fossil fuels, the world has been warming by 1.2C since the dawn of industrialization. The rate of temperature rise in Europe, has been almost twice as rapid.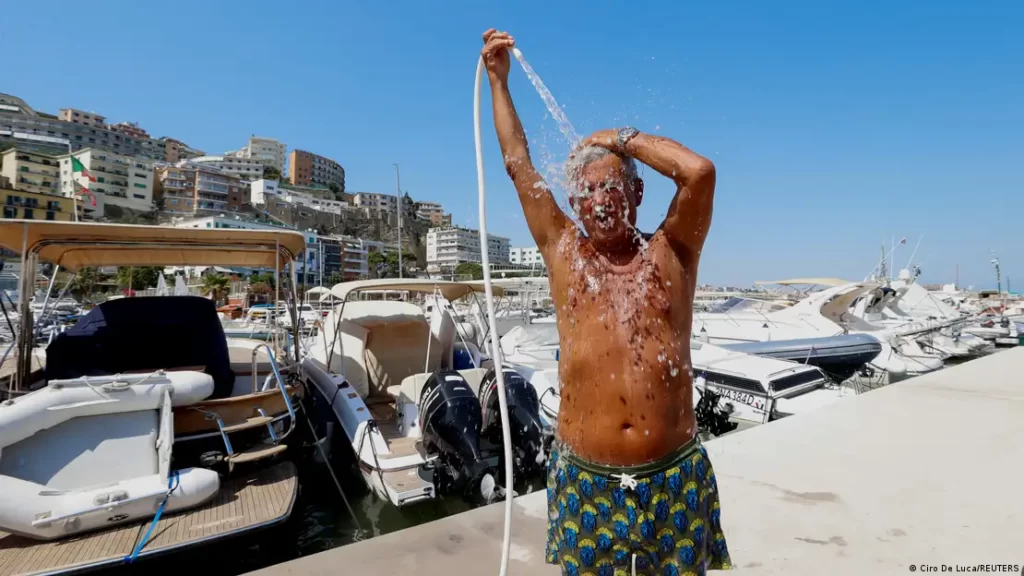 Moreover, a natural occurring weather pattern, called El Nino, returned after three years of silence, and has been projected to push weather temperature higher this year. According to scientists, temperature recorded in July this year, is the hottest of all recorded since the start of the year.
According to a research from the World Weather Attribution published in May, climate breakdown increased the likelihood of scorching temperatures the month before by a minimum of a hundredfold in Spain, Portugal, Morocco, and Algeria. To determine the extent of issues concerning the climate, it's only achievable after an occurrence of severe weather conditions.
Scientists and doctors across the European continent, have issued cautions to people to take extra care in the heat. In Spain, people who live near remote areas, precisely place where bushing burning is common, are being advised by the Red Cross, to remain indoor with their windows closed.
Additionally, in Greece, authorities have taken the obvious step to temporarily shut down the Acropolis to "protect" tourists. Also volunteers have been distributing water at tourists' site to keep tourists hydrated.
The administrative decision made to close the nation's most popular tourist destination for five hours starting at noon, was announced as an emergency plan to deal with the severe heat. For the first time, it was prohibited for those, employed in the building and delivery industries to work during the hottest periods of the day.
Employees in the public and private sectors were urged to work offsite in Athens because of the city's urban heat islands, which have maintained the temperature high even at night. On the Aegean island of Naxos, the first of several predicted forest fires broke out with little possibility of relief from the wind.
According to Jose Valencia-Martin of Virgen del Roco hospital in Spain, patient admission climbs high, the moment weather temperature increases. "The prevention and control of the effects of increasingly frequent, prolonged, and intense heatwaves is a challenge."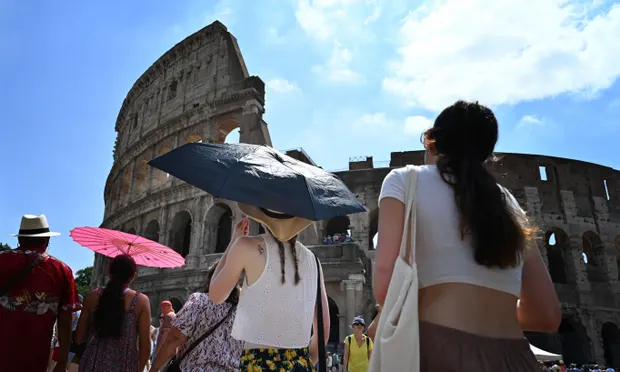 Heat waves are frequently referred to as "silent killers" because the majority of fatalities are not recorded in official records. Dehydration and heatstroke account for a minor percentage of fatalities. Many more are caused by hot weather, which prevents the human system from working correctly, especially in persons with medical conditions.
More than 61,000 people in Europe perished from the summer's temperatures according to a research released on Monday. Italy, Spain, Greece, and Portugal were among the most severely damaged nations in southern Europe.
READ ALSO:West Coast Flooding Destroys R1bn Worth Of Farm Produce