Israeli Defense Minister, Yoav Gallant has ordered a "complete siege" on Gaza.
This came as the ongoing war between the Hamas militant group and Israeli army entered a third day on Monday, October 8, 2023.
Gallant stated that authorities would cut electricity and block the entry of food and fuel in Gaza.
Speaking the kind of dehumanizing language often used by both sides at times of tensions, Gallant said that Israel was at war with "human animals."
Israel and Egypt have imposed various levels of blockade on the territory since Hamas seized power from rival Palestinian forces in 2007.
According to health officials, the number of people killed by Israeli attacks in the Gaza Strip alone has gone up to 493. More than 2,750 are injured.
Israeli military Spokesperson, Daniel Hagari disclosed that Israeli forces were in "full control of communities" in its southern territory near the Gaza fence.
Hagari also revealed that fighting was continuing in some other parts.
Israeli air attacks targeted two refugee camps in the besieged Gaza Strip; the Jabalia and al-Shati refugee camps. A mosque in al-Shati was also struck.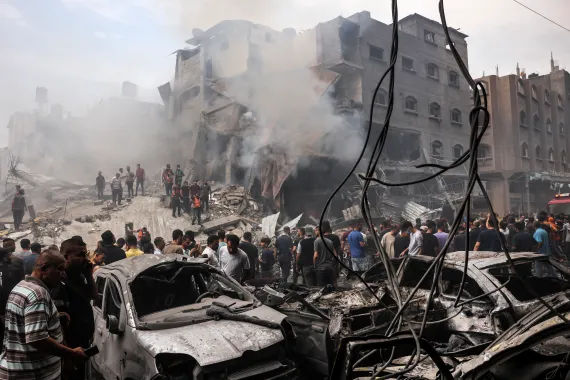 Dozens of casualties have been brought to Gaza City's main hospital, Al-Shifa.
Meanwhile, Iran rejected allegations that it played a role in Hamas' attack on Israel. It said the claims were unfounded.
Iranian foreign ministry Spokesperson, Nasser Kanani told reporters, "The accusations linked to an Iranian role… are based on political reasons."
His comments came after a news agency reported that Iran helped Hamas plan its surprise attacks.
Palestinians had "the necessary capacity and will to defend their nation and recover their rights" without any help from Tehran, Kanani added.
Israel and Iran have been at loggerheads for decades.
It is not the first time that they have exchanged accusations of playing a role in attacks and sabotage operations in each other's territory.
Israel regards Iran as its biggest threat, and has repeatedly attacked Iranian targets in the region.
Due to the ongoing clashes, EgyptAir suspended flights to Israel. A number of foreigners including citizens from Sweden, Germany, Austria and Poland have also been evacuated from Israel.
According to the United Nations Office for the Coordination of Humanitarian Affairs (OCHA), over 123,538 people have been internally displaced in Gaza, "mostly due to fear, protection concerns and the destruction of their homes."
The UN Relief and Works Agency for Palestine Refugees in the Near East (UNRWA) also disclosed that the displaced people were now in 64 UNRWA shelters, with numbers likely to increase as heavy shelling and air attacks continue, including in civilian areas.
"UNRWA teams are providing families with shelter and clean water. Supplies are being prepared to deliver to families, including food, hygiene kits and cleaning supplies," it said in a statement.
"Civilians must be protected at all times, including during fighting … Schools and other civilian infrastructure, including those sheltering displaced families, must never come under attack."

UN Relief and Works Agency for Palestine Refugees in the Near East (UNRWA)
Austria And Germany Suspend Aid To Palestine
Austria and Germany have suspended aid to the Palestinians in response to Hamas' assault on Israel.
Alexander Schallenberg, Austria's Foreign Minister, announced that his country was suspending 19 million euros ($20m) in aid for several projects.
Schallenberg told local media outlet,"The extent of the terror is so horrific … that we cannot go back to business as usual."
"We will therefore put all payments from Austrian development cooperation on ice for the time being," Schallenberg iterated.
Also, Germany's Development Minister, Svenja Schulze said no payments were currently being made.
"I would not at this point use the word freezing, as we are in the middle of a war… The formulation does not correspond to the situation on the ground," she remarked at a news conference.
"We are in contact with our partners there and reviewing everything again,"she said.
READ ALSO: Palestine's UN Envoy Urges World To Look At "Bigger Picture" As Israel-Hamas War Escalates