Narges Mohammadi, a jailed Iranian women's rights advocate, has won the 2023 Nobel Peace Prize.
Mohammadi was awarded the esteemed prize on Friday, October 6, 2023, while behind bars.
She is the second Iranian woman to receive the Nobel peace prize and the 19th woman to win the 122-year-old prize.
In its citation, the Norwegian Nobel Committee, noted that it has "decided to award the 2023 Nobel peace prize to Narges Mohammadi for her fight against the oppression of women in Iran and her fight to promote human rights and freedom for all."
During the announcement in Oslo, Berit Reiss-Andersen, Head of the Norwegian Nobel Committee, remarked, "Her brave struggle has come with tremendous personal costs."
"Altogether, the regime has arrested her 13 times, convicted her five times, and sentenced her to a total of 31 years in prison and 154 lashes," Reiss-Andersen said.
"Narges Mohammadi is a woman, a human rights advocate, and a freedom fighter. In awarding her this year's Nobel Peace Prize, the Norwegian Nobel Committee wishes to honour her courageous fight for human rights, freedom, and democracy in Iran."

Berit Reiss-Andersen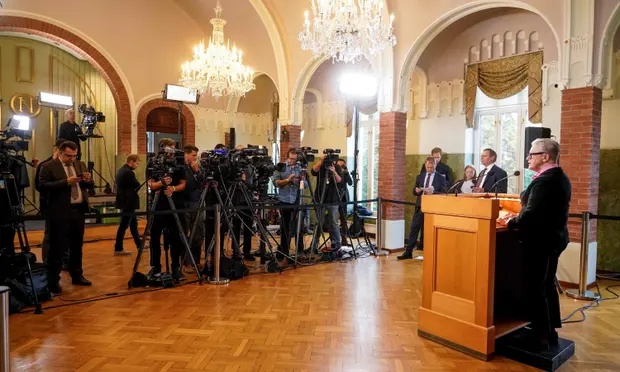 Mohammadi, 51, is one of Iran's leading human rights activists who has campaigned for women's rights, the abolition of the death penalty and an improvement of prison conditions inside Iran.
She is the deputy head of the Defenders of Human Rights Center, a non-governmental organisation led by Shirin Ebadi, the 2003 Nobel Peace Prize laureate.
Mohammadi is currently serving multiple sentences in Tehran's notorious Evin prison amounting to about 12 years imprisonment, according to the Front Line Defenders rights organisation, one of the many periods she has been detained behind bars.
Charges include spreading propaganda against the state.
Nonetheless, Mohammadi has been active from within prison, warning of nationwide protests by publishing letters about the state of prisons and detention centres and violence against prisoners and detainees.
She has been separated from her family.
Mohammadi's husband, Taghi Rahmani, is in Paris, where he has lived in exile with their children since shortly after Mohammadi was imprisoned in 2015.
Mohammadi has been banned from speaking directly to her husband and children for the past 18 months because she has refused to be silenced behind bars,
Mohammadi Vows To Continue Her Activism
In a statement released after the win, Mohammadi said that she would never stop striving for the realisation of democracy, freedom and equality– even if that meant staying in prison.
"I will continue to fight against the relentless discrimination, tyranny and gender-based oppression by the oppressive religious government until the liberation of women.
"I also hope this recognition makes Iranians protesting for change stronger and more organised. Victory is near."

Narges Mohammadi
The Office of the United Nations High Commissioner for Human Rights stated that the award underscored the courage and determination of Iranian women in the face of reprisals, intimidation, violence and detention.
Nazanin Zaghari-Ratcliffe, a British-Iranian dual-national who shared a prison cell with Mohammadi in Evin, said, "I am so pleased for her. It makes me cry. She did so much for all of us in Evin."
"Narges is an inspiration and a pillar to the women in the female ward in Evin for her fearless fight against violation of women's rights, use of solitary confinement and execution in the judicial system in Iran.
"This award belongs to every single Iranian woman who, one way or another, has been and remain to be a victim of injustice in Iran."

Nazanin Zaghari-Ratcliffe
Also, Nazanin Boniadi, a Iranian born actress and human rights activist, noted, "The importance of the Nobel Institute recognizing a brave Iranian woman like Narges Mohammadi in this moment doesn't escape me."
"A new generation of Iranians draw inspiration for her longstanding courage and human rights advocacy. I hope this moment serves as a reminder that the world is with the people of Iran, as they risk everything for freedom."

Nazanin Boniadi