Former U.S President, Donald Trump has officially endorsed Ohio Congressman, Jim Jordan, to succeed Kevin McCarthy as House Speaker.
The vote is expected to take place next week.
Early on Friday, October 6, 2023, Trump noted on Truth Social, "Congressman Jim Jordan has been a STAR long before making his very successful journey to Washington, DC, representing Ohio's 4th Congressional District."
He added, "He will be a GREAT Speaker of the House & has my Complete & Total Endorsement!"
The announcement came hours after the Texas Congressman, Troy Nehls said on Thursday, October 5, 2023, night that Trump had decided to back Jordan's bid.
"Just had a great conversation with President Trump about the Speaker's race. He is endorsing Jim Jordan, and I believe Congress should listen to the leader of our party," Nehls wrote late on Thursday on X.
It also came after the former U.S President said that he would be open to serving as interim Speaker if Republicans could not settle on a successor following McCarthy's removal.
House Republicans are deeply fractured and some of them had asked Trump to take the role of Speaker temporarily to 'unify' the party, and he had said he would if it was "necessary."
Jordan is one of two leading candidates vying for Speaker along with the Congressman Steve Scalise of Louisiana. Both are trying to lock in the 218 votes required to win the job and need the support of both the far-right and moderate factions of the party.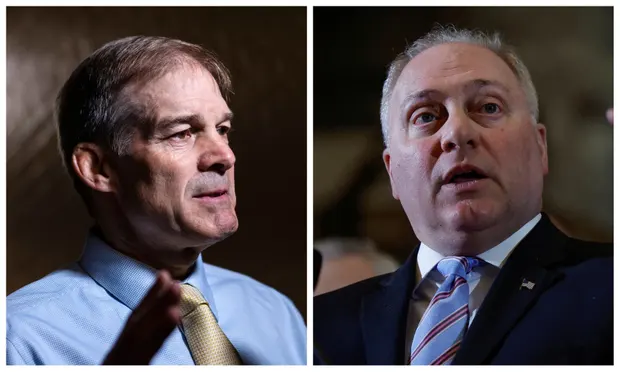 Jordan is Chair of the powerful judiciary committee, while Scalise is the Majority Leader. Both confirmed their intentions to run for the top House job a day after Kevin McCarthy was ousted.
Jordan is one of Trump's biggest champions in Washington DC and has been leading investigations into prosecutors who have charged the former President.
He was also part of a group of Republicans who worked with Trump to overturn his defeat, ahead of January 6, 2021.
Scalise has also worked closely with Trump over the years.
It is unclear whether Trump's endorsement will force Scalise, out of the race, or if either can reach the threshold.
Nonetheless, Nehls said that if no current candidate succeeds in earning the support needed to win, he would once again turn to Trump.
"Our conference is divided. Our country is broken. I don't know who can get to 218," he said in an interview with a news agency.
Trump To Visit Capitol Hill
According to three people familiar with the discussions who spoke on condition of anonymity, Trump had been in talks to visit Capitol Hill next week ahead of the speakership vote.
Trump confirmed the trip to a news agency and said that he would travel on Tuesday, October 10, 2023, to meet with Republicans.
The trip would have been Trump's first to the Capitol since leaving office and since his supporters attacked the building in a bid to halt the peaceful transition of power on January 6, 2021.
Trump has been indicted in both Washington DC and Georgia over his efforts to overturn the results of the election, which he lost to his Democratic party challenger, Joe Biden.
Others are waiting in the wings potentially to contest for the speakership, including the Oklahoma representative, Kevin Hern, who as Chair of the Republican study committee leads the largest faction of Republicans in the chamber.
READ ALSO: UN To Investigate Missile Attack in Kharkiv