A number of African leaders arrived in Russia on Wednesday, July 26, 2023 for the second Russia-Africa summit.
The summit is slated to take place in St. Petersburg's Expoforum from Thursday, July 27, 2023 to Saturday, July, 29, 2023.The first Russia-Africa summit took place in 2019.
Russian President, Vladimir Putin has tagged the summit as a major event that would help bolster ties with the African continent.
However, the number of African heads of states attending the summit has reduced from 43 in 2019 to 17. The Kremlin blames this on what it described as a crude Western pressure to discourage African nations from attending the event
In a conference call with reporters, Kremlin Spokesman, Dmitry Peskov condemned the "unconcealed brazen interference by the U.S., France and other states through their diplomatic missions in African countries, and attempts to put pressure on the leadership of these countries in order to prevent their active participation in the forum."
"It's absolutely outrageous, but it will in no way prevent the success of the summit."

Dmitry Peskov
Putin's foreign affairs Adviser, Yuri Ushakov clarified that while only 17 heads of state will attend the summit, 32 other African countries will be represented by senior government officials or Ambassadors.
Africa's 54 nations make up the largest voting bloc at the United Nations and have been more divided than any other region on General Assembly resolutions criticizing Russia's actions in Ukraine.
The summit follows Russia's withdrawal from the Black Sea grain agreement; a deal that allowed Ukrainian grain to be exported to other parts of the world, African countries especially.
Meanwhile, Putin has repeatedly pledged that Russia would offer free grain to low-income African countries now that the grain deal has been terminated.
Claiming that Russia shipped almost 10 million tons of grain to Africa in the first half of the year, Putin asserted in a statement on Monday, July 24, 2023, that his country is capable of replacing the Ukrainian grain both on a commercial and free-of-charge basis.
The flow of grain to Africa is sure to be discussed during the summit. Another issue that will likely be on the talks' agenda will be the fate of the Wagner mercenary group.
Wagner's future will be an urgent issue for countries like Sudan, Mali and others who contract with the mercenary group in exchange for natural resources like gold.
Putin Holds Talks With Ethiopian Prime Minister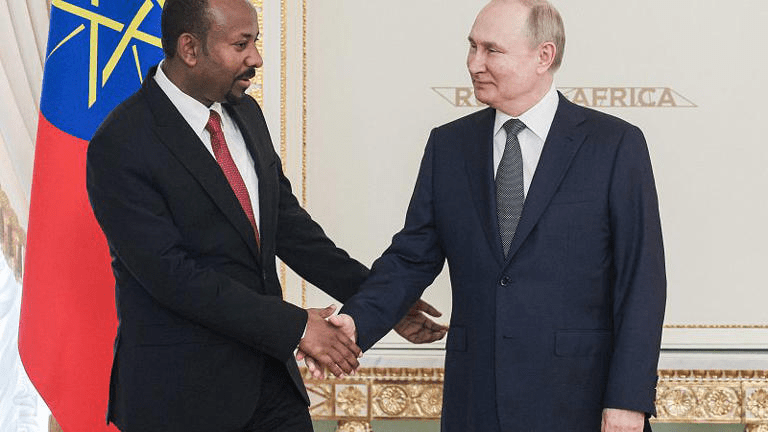 On Wednesday, Russian President, Vladimir Putin met separately with Ethiopia's Prime Minister Abiy Ahmed, and said Russia will more than triple the number of Ethiopian students it hosts and cover their education costs.
According to a Russian news agency, Ahmed said during talks with Putin that Ethiopia and Russia are brotherly nations.
Ahmed was reported as saying, "We are extremely interested in the discussion of our bilateral relations and regional issues with a brotherly nation."
"This is my first visit to St. Petersburg, and I find it very beautiful. I know about the ties between Ethiopia and Russia in culture, diplomacy and politics. We have long-standing ties, passing through difficult times together, and I believe that this visit will contribute to strengthening our relations."

Prime Minister Abiy Ahmed
The Prime Minister of Ethiopia stated his intention to discuss bilateral and multilateral issues, including security, economic cooperation and trade.
"I hope that we will have a very fruitful discussion," Ahmed said. "We are very glad to be here together with other Africa leaders for participation in the summit," he added.
Ahmed also expressed his gratitude for the warm welcome the Ethiopian delegation received in St. Petersburg.
Later in the day, Putin is set to hold talks with Egyptian President Abdel Fattah el-Sissi.
READ ALSO: Bulls Had A Field Day on the Ghana Stock Exchange As SIC Insurance Experiences a Boom in Trading Activity