Health workers in Belgium's third largest city Liege have been asked to continue working even if they test positive for Covid-19, as long as they are not showing any symptoms of the disease.
Top health official have warned that Belgium could run out of intensive care beds in as little as two weeks and some hospitals are facing staff shortages. The country of 11.5 million people has reported on average more than 13,000 cases a day in the past week, according to the national public health institute, Sciensano.
The Covid-19 outbreak in Belgium is the second worst in Europe in terms of new cases per capita, after only the Czech Republic.
The head of the Belgian Association of Medical Unions, Dr Philippe Devos, speaking on the decision said they had no choice if they were to prevent the hospital system collapsing within days.
Dr Devos however acknowledged that there was an obvious risk of transferring the virus to patients. One in three people tested are coming back positive with the virus in Liege with hospitals transferring patients elsewhere and cancelling non-urgent surgeries.
Earlier this week, Health Minister, Frank Vandenbroucke warned the country was close to a "tsunami" of infections where authorities "no longer control what is happening".
The communications director of Liege University Hospital, Louis Maraite, told reporters that because of staff shortages, the hospital had "no choice" but to make doctors and nurses who tested positive but have no symptoms come to work.
"This is not a problem as they are working in coronavirus units with patients who also tested positive," he added. Maraite said that health workers with Covid-19 accounted for 5% to 10% of the total hospital workforce.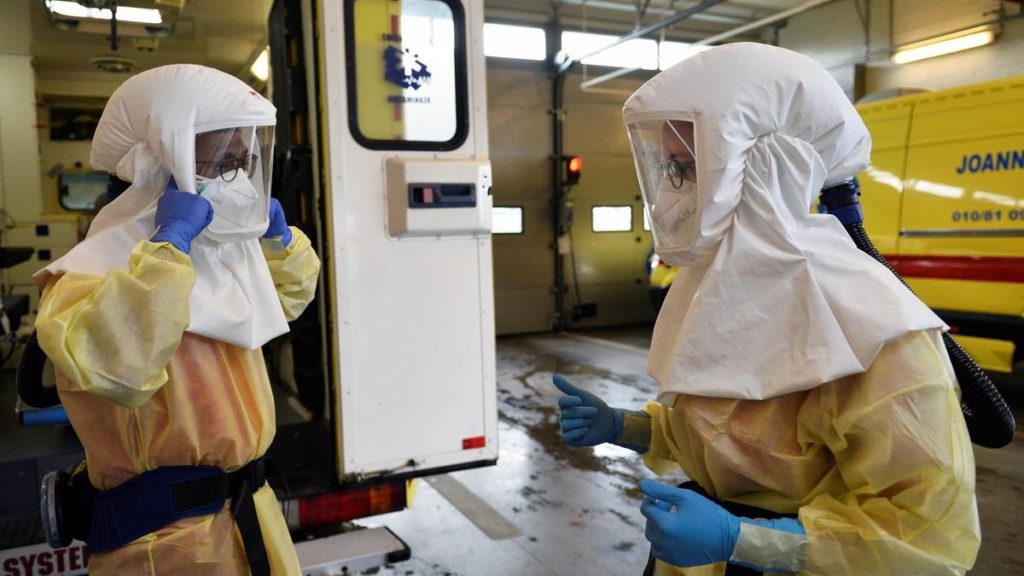 Health workers who show symptoms, such as fever, have been asked not to come to work, Maraite said, acknowledging that the hospital could however not force asymptomatic health workers to show up.
Another Liège hospital, CHC MontLégia, also confirmed that positive asymptomatic health workers have been asked to continue working on a voluntary basis and in the "strict observance of sanitary measures" that include limiting contact with their colleagues.
The spokesperson for the private hospital's communication department told CNN that positive asymptomatic staff are working mainly in Covid-19 units but can work across all units including those with non-covid patients, except the geriatric, neonatology and oncology departments, where patients are "particularly vulnerable".
The government has imposed new rules in the country in an attempt to slow down the spread of the virus. A curfew is in place every day from midnight to 5 a.m., restaurants and cafes are closed for sit-down services, and people are expected to work from home unless that's impossible. Amateur sporting events have been cancelled and any professional competitions must take place without audience.
At a news conference earlier in the week, World Health Organization (WHO) officials suggested travel restrictions, stay at home orders or even national lockdowns may be needed across the continent to tackle the fresh outbreaks. "Right now we are well behind this virus in Europe, so getting ahead of it is going to take some serious acceleration in what we do," warned WHO emergencies head Dr Mike Ryan.