At least 11 people – including students – have been;killed and several others injured in a shooting at a school in Russia's southwestern city of Kazan, according to reports.
Russia's state RIA agency announced;that at least 16 people – 12 students and 4 adults – were;hospitalized following the attack, citing the President of the Tatarstan region, Rustam Minnikhanov.
The RIA news agency also said a blast was;heard at the school in the city of Kazan and a teenage gunman has;been;detained.
Footage posted on social media showed;a large crowd outside the school after the premises had;been;evacuated, and emergency services including police and armed officers as well as paramedics at the scene.
Around 21 ambulances were;sent to the site, with local officials also turning up, Ria noted.
The Interfax news agency also cited a source as saying that there were;two attackers of which one has;been;arrested. Footage posted on social media showed;a young man being;pinned to the ground outside the school building by a police officer.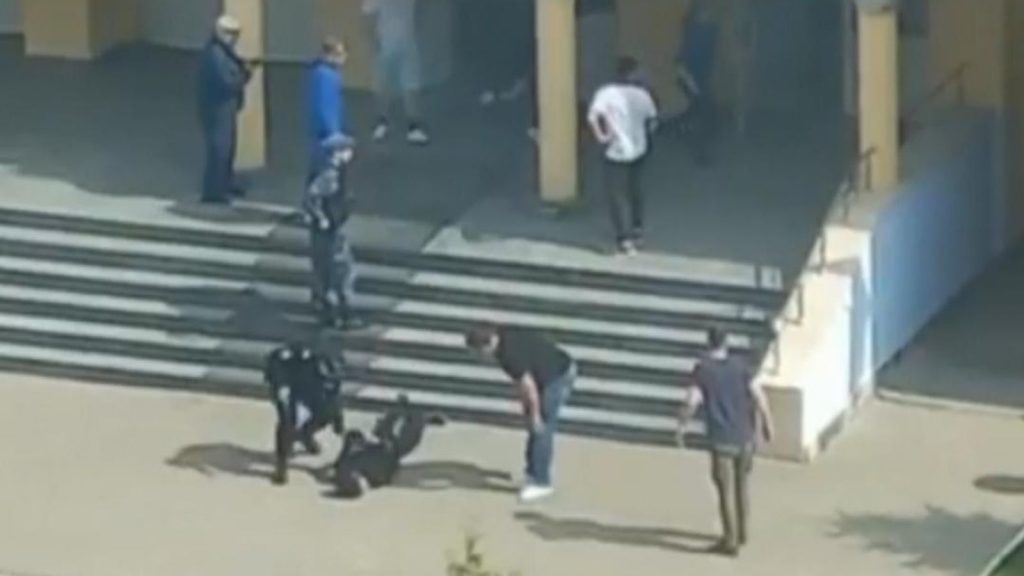 However, Minnikhanov's comments to the press suggested one person was responsible for the shooting.
"The terrorist has been arrested, (he is) 19 years old. A firearm is;registered in his name. Other accomplices haven't;been;established; an investigation is;underway," he said.
The Interfax news agency posited in its account that the second attacker was still at large and could still be in the building.
Authorities said additional security measures have been put into place in all schools in Kazan, the capital of Russia's Tatarstan region, which is roughly 700 kilometres (430 miles) east of Moscow.
A spokesman for the Kremlin said Russian President, Vladimir Putin had been informed of the incident, and had ordered a review into public gun ownership.
Explosion before attack
A witness told Russia's TASS news agency there was an explosion before the attack was carried out.
In a video filmed by an onlooker that was circulated by RIA, two children could be seen leaping from the third floor of the four-storey school as gunshots sounded. Images also showed armed officers from the Federal Security Services (FSB) storming the school building, while the area was cordoned off with police tape.
Video taken inside the school showed corridors littered with debris, and damaged classrooms and toilet facilities whose doors looked as if they had been shattered in a blast. Local officials said some children were evacuated from the school but others still remained in the building.
Reports indicate that classes were just resuming after a 10-day holiday. The "terrorist' is also believed to be a former student of the school.
While school shootings are relatively rare in Russia, officials say there have been several violent attacks on schools in recent years, mostly carried out by students.
One of the last major school shootings in the country took place in Russian-annexed Crimea in 2018 when a student at a college killed 19 people before killing himself.
Read Also: Gov't unfulfils pledge of allocating 10% of budget on agriculture for over a decade