In an address at the Danish parliament in Copenhagen, Ukrainian President, Volodymyr Zelenskyy, expressed gratitude to Danish politicians for agreeing to transfer F-16s to his country.
This came a day after Zelenskyy, his wife, First Lady Olena Zelenska arrived in Denmark following the visit to the Netherlands.
Zelenskyy's speech also comes after Dutch Prime Minister, Mark Rutte announced on Sunday, August 20, 2023 that The Netherlands and Denmark will deliver F-16 fighter jets to Ukraine.
The Ukrainian President thanked the Danish parliament for establishing the Ukraine Support Fund and for the decisions to provide additional funding for its military component.
He was appreciative of the parliament's special attention to Ukrainians who have found refuge in Denmark from the war and for adopting a separate law that allows Ukrainian citizens to use the state system of social services and have access to the local labor market.
"There is a considerable distance between our countries, but there is no distance between our peoples. You have helped our people, the forced migrants, a lot. You welcomed them as your family. And this is a great victory for your great country."

Volodymyr Zelenskyy
Additionally, Zelenskyy heaped praises on the Prime Minister of Denmark Mette Frederiksen, her team, the Danish Government and the entire society.
"Thank you, Denmark, for your solidarity! Thank you for all the help provided to Ukraine!" he declared.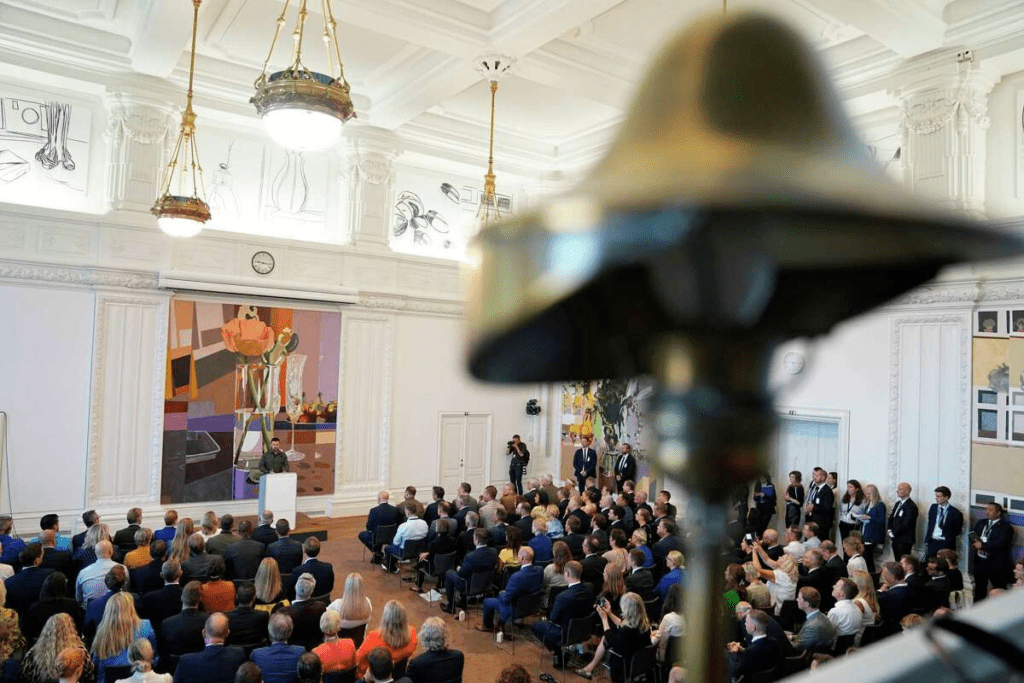 Also in his speech, Zelenskyy issued a warning that other parts of Europe would be at risk from the Kremlin's military aggression if Russia succeeded in the war.
"All of Russia's neighbours are under threat if Ukraine does not prevail," he averred.
"International law will not be resuscitated, democracies of the world, each of them can become a target – either for missiles, or for mercenaries, or for destabilisation, and I am sure you can feel it.
"But Ukraine will prevail. I want you to see it, hear it, feel it. Ukraine will prevail!

Volodymyr Zelenskyy
Zelenskyy also met with Denmark's 83-year-old monarch, Queen Margrethe II at the Christiansborg Palace, the building which houses the Danish parliament.
Afterward, he addressed the crowds gathered outside from the parliament steps.
Russia Criticizes Decision To Transfer Fighter Jets To Ukraine
In a statement, Russia's Ambassador to Denmark, Vladimir Barbin, decried Denmark and the Netherlands' decision to send F-16 fighter jets to Ukraine.
"The fact that Denmark has now decided to donate 19 F-16 aircraft to Ukraine leads to an escalation of the conflict," Barbin said.
"By hiding behind a premise that Ukraine itself must determine the conditions for peace, Denmark seeks with its actions and words to leave Ukraine with no other choice but to continue the military confrontation with Russia.
"This position pushes Ukraine into the abyss and condemns its people to new sacrifices. There will be no other result from Denmark's decision to transfer the F-16 jets to Ukraine."

Vladimir Barbin
Meanwhile, Danish Defence Minister, Jakob Ellemann-Jensen disclosed that Ukraine can use the F-16 fighter jets being donated by Denmark and the Netherlands only within its own territory.
"We donate weapons under the condition that they are used to drive the enemy out of the territory of Ukraine. And no further than that."

Jakob Ellemann-Jensen
"Those are the conditions, whether it's tanks, fighter planes or something else," Ellemann-Jensen added.
Denmark pledged 19 F-16s, which could be delivered around the end of the year when pilot training lasting four to six months is completed.
The Netherlands has 42 F-16s available in all but has yet to decide whether all of them will be donated.
READ ALSO: Coal Miner Exxaro Plans to Build Cash Pile Close to $800 million to Widen Search for Critical Mineral Targets