In a joint press conference with Ukrainian President, Volodymyr Zelenskyy at a military airbase in Eindhoven on Sunday, August 20, 2023, Dutch Prime Minister, Mark Rutte announced that The Netherlands and Denmark will deliver an unspecified number of F-16 fighter jets to Ukraine.
Rutte added that the transfer will be made once its conditions have been met.
This came as Zelenskyy arrived in the Netherlands with the First Lady of Ukraine, Olena Zelenska on Sunday.
Zelenskyy's trip followed a visit to Sweden and he is expected to continue to Denmark later in the day.
It is the first real pledge of F-16 fighter jets for Ukraine's armed forces. Zelenskyy has long lobbied for fighter jets from his Western allies as Ukraine currently operates a small air force based on Soviet standard aircraft which is not a match for its larger Russian equivalent.
The announcement came two days after the U.S agreed that the Netherlands and Denmark could supply the U.S-made warplanes to Kyiv.
"Today we can announce that the Netherlands and Denmark commit to the transfer of F-16 aircraft to Ukraine and the Ukrainian airforce," Rutte averred.
Rutte disclosed that his country has 42 F-16s available in all. However, he said that it was still uncertain as to how many would be delivered to Ukraine saying that it is too early to say whether all of them will be donated.
Zelenskyy noted that the exact number of aircraft would be discussed "a little later."
Additionally, the Dutch Prime Minister noted that it was clear that F-16s would not be transferred right away, as it will take time to properly train Ukrainian pilots and to prepare the needed infrastructure for the use of the planes.
"The military training will start in the very near future, and then it will take of course some time for the planes to get operational with well-trained pilots, but we'll do everything to make it happen as soon as possible."

Mark Rutte
The Dutch and Danish governments are involved in a coalition that is working to train Ukrainian pilots to fly the advanced fighter jets.
Meanwhile, the Danish foreign ministry also confirmed that the transfer of F-16s to Ukraine will occur when conditions have been met.
The conditions include successfully selecting, testing and training Ukrainian personnel.
In a statement, the Danish Defence Minister, Jakob Ellemann-Jensen, affirmed Denmark's support for Ukraine.
"It makes me proud that Denmark, together with the Netherlands, will donate F-16 fighter jets to Ukraine's fight for freedom against Russia and its senseless aggression.
"Denmark's support for Ukraine is unwavering, and with the donation of F-16 aircraft, Denmark is now leading the way."

Jakob Ellemann-Jensen
"A Breakthrough Agreement"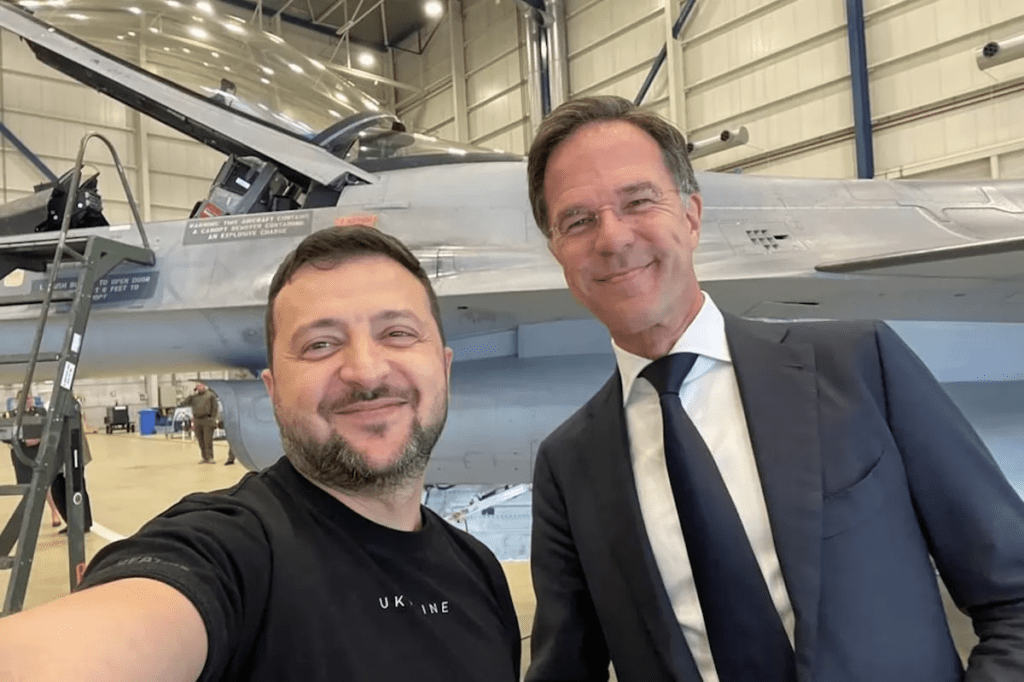 Calling the deal a "breakthrough agreement," Ukrainian President Volodymyr Zelenskyy hailed the decision to hand over F-16 planes to his country.
"F16 will certainly give new energy, confidence and motivation to fighters and civilians. I'm sure it will deliver new results for Ukraine and the entire Europe."

Volodymyr Zelenskyy
Speaking at the press conference, Zelenskyy stated, "The third point for today is absolutely historic, powerful and inspiring for us."
"This is another step towards strengthening Ukraine's air shield," he added.
Zelenskyy emphasized that the F-16 fighter jets would help strengthen Ukraine's air defences and help its counter-offensive. "Aircraft can speed up this process," he said.
"We are speaking about air defence, because we have the winter ahead of us and we understand more than anyone else in the world what winter without electricity is like."

Volodymyr Zelenskyy
READ ALSO: ECOWAS Leaders Must Stop Warmongering And Give Diplomacy A Chance- Ablakwa