A number of top Ukrainian officials have resigned.
The Deputy Head of Ukraine's presidential office, Kyrylo Tymoshenko resigned on Tuesday, January 24, 2023 after Ukrainian President Volodymyr Zelenskyy pledged to launch a staff reshuffle amid high-level corruption allegations during the country's war with Russia.
According to an online copy of a decree signed by Zelenskyy and Tymoshenko's own social media posts, Tymoshenko asked to be relieved of his duties.
Local media reported that Deputy Defense Minister, Viacheslav Shapovalov has resigned, alleging his departure was linked to a scandal involving the purchase of food for the Ukrainian Armed Forces.
Deputy Prosecutor General, Oleksiy Symonenko has also quit.
Kyrylo Tymoshenko joined the presidential office in 2019, after working on Zelenskyy's media and creative content strategy during his presidential campaign.
Zelenskyy had promised personnel changes in the government, regional administrations and security forces following corruption allegations that emerged after Russia's invasion last February.
Last year, Tymoshenko was under investigation relating to his personal use of luxury cars. He was also among officials linked last September to the embezzlement of humanitarian aid worth more than $7 million earmarked for the southern Zaporizhzhia region.
Tymoshenko has denied all the allegations.
In an address on Sunday, Zelenskyy vowed to drive out corrupt officials, when a Deputy Minister, Vasyl Lozynsky was dismissed for being part of a network embezzling budget funds.
Oleksandr Kubrakov, the Infrastructure Minister, disclosed that Lozynsky was relieved of his duties after Ukraine's anti-corruption agency detained him while he was receiving a $400,000 bribe for helping to fix contracts related to restoring infrastructure facilities destroyed by Russian missile strikes.
A statement by the National Anti-Corruption Bureau of Ukraine described Lozynsky as part of "an organized criminal group involved in the embezzlement of budget funds." It said its detectives were working to identify the group's other members.
Ukraine's Focus On The War Would Not Stop Government From Tackling Corruption
In his video address, Ukrainian President, Volodymyr Zelenskyy emphasized that Ukraine's focus on the war would not stop his government from tackling corruption.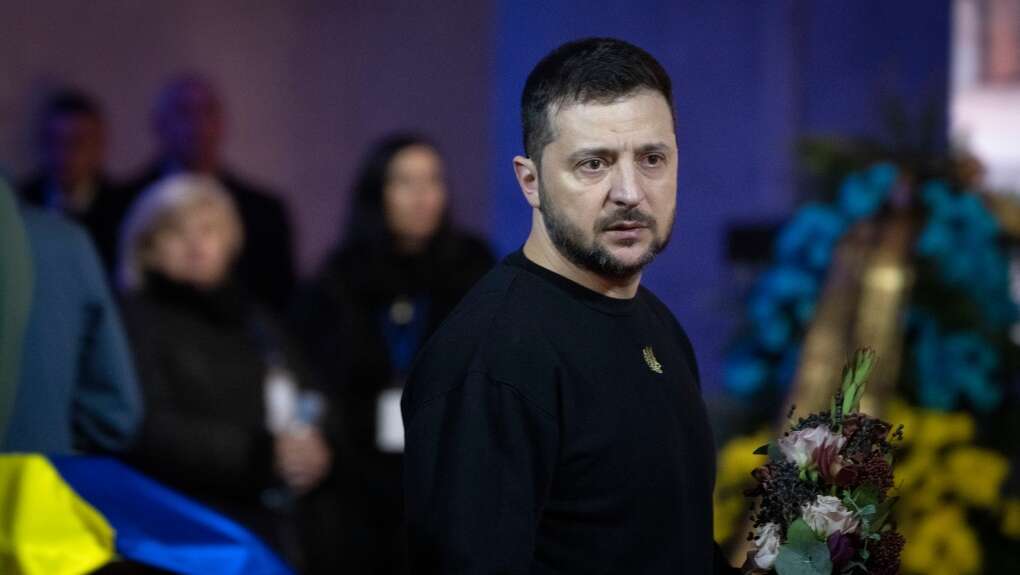 Zelenskyy, who came to power in 2019 on an anti-corruption platform, pointed to suspicions in the areas of energy and military procurement.
Zelenskyy noted that he intended the Deputy Minister's dismissal to send "a signal to all those whose actions or behavior violate the principle of justice."
"I want to be clear: There will be no return to what used to be in the past," Zelenskyy said.
David Arakhamia, the head of Zelenskyy's Servant of the People party, has stated that corrupt officials could face jail time.
"Officials at all levels have been constantly warned through official and unofficial channels: focus on the war, help the victims, reduce bureaucracy and stop doing dubious business. Many of them have actually listened, but some, unfortunately, did not. If it doesn't work in a civilized way, it will be done according to the laws of wartime. This applies both to recent purchases of generators and to fresh scandals in the ministry of defense."

David Arakhamia
Defence Minister, Oleksii Reznikov has also been criticized lately, following media reports that suggest that his ministry signed a contract to procure food for the military at inflated prices. Reznikov said those prices were a "technical mistake".
A report by Ukrainian newspaper, Ukrainska Pravda suggests the heads of four regional administrations; Sumy, Dnipro, Zaporizhzhia and Kherson, may be the next to go after Tymoshenko, due to their links to the resigned presidential aide.
Ukraine has a history of corruption and in 2021, Transparency International ranked the country at 122 out of 180 countries in its ranking of corrupt states.
READ ALSO: Ardern Makes Final Public Appearance As Prime Minister