Local authorities disclosed that Russian missiles have hit an aircraft repair plant near Lviv in western Ukraine, a city that has become a haven for people fleeing the invasion.
This was after three loud explosions were heard early on Friday, March 18, 2022, of which emergency vehicles raced to the site of the strike, just 6km (four miles) from the city centre. So far, no one is injured from the attack.
Reports suggested that this is the closest the conflict has come to the city of Lviv, a key humanitarian supply route and a hub for hundreds of thousands of people who have fled from neighbouring cities. Western Ukraine was so far the quietest of the rest of the country.
Russia launched its invasion on three fronts: from the north, east and south, leaving cities such as Lviv relatively untouched. But some signs may be changing, after Friday's (March 18, 2022) strike and a deadly missile attack on a military training base outside the city last Sunday, March 13, 2022.
Valentin Vovchenko, 82, in an interview with the media, from Lviv, intimated that "There have been air raid alarms here every morning, but now the strikes are actually landing. We fled Kyiv because of the attacks but now they've started to hit here".
The city's Mayor, Andriy Sadovy, affirmed reports that the military aircraft maintenance facility had been destroyed by cruise missiles. The facility, which was not in operation at the time, is only a short distance from the Danylo Halytskyi International Airport. Mr. Sadovy, however, averred the airport itself had not been hit.
Ukraine's air force said six cruise missiles were fired in total from the Black Sea. Two of them were destroyed by anti-aircraft missiles.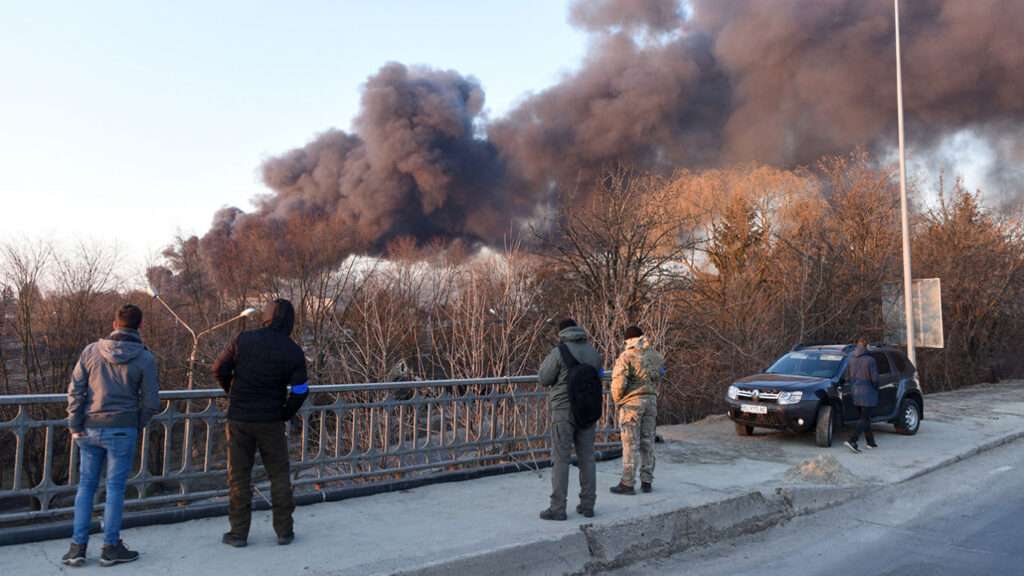 Professor Michael Clarke, the Former Director of the Royal United Services Institute (RUSI) think-tank, disclosed that "The Russians are going for the infrastructure that is keeping Ukrainian aircraft in the air".
Lviv is just 80km from Poland, a country that has taken in more than two million Ukrainians seeking refuge from a conflict that has destroyed homes and upended lives.
Explaining further, Professor Clarke said given the facility's proximity to the Polish border, the strike could be seen as "an attempt to frighten the West out of helping Ukrainians as much as they have been".
UK Armed Forces Minister, James Heappey, also pointed out that "It is very much a part of war that you go after each other's supply lines. But the reality is this development will be a concern for people living in the west of Ukraine."
He also added that the UK is in the process of training Ukrainians to use Starstreak anti-aircraft missile systems, which he said would arrive in the country soon.
Several major cities also faced fresh aerial attacks on Friday, March 18, 2022. In the eastern city of Kharkiv, at least one person has been killed with close to 11 others injured when a university building and two blocks of flats were bomb-shelled.
Further south, in Kramatorsk, about two people were killed and about six were injured in a missile attack. And in the capital Kyiv, at least one person was killed after a downed missile exploded in a residential neighbourhood.
Over 3 million people have fled Ukraine
So far, more than 3.25 million refugees have fled Ukraine since the Russian invasion, the United Nations revealed on Friday, March 18, 2022, with more than two million crossing the Polish border.
According to the United Nations High Commissioner for Refugees (UNHCR), the UN refugee agency, about 3,270,662 people have migrated since the war began on Thursday, February 24, 2022. The UNHCR added that more than another 100,765 have also joined, since its Thursday's (March 17, 2022) update.
UNHCR Spokesman, Matthew Saltmarsh, said "We have seen a general slowdown", inflow since the early days of the conflict. As for people still within Ukraine who have left their homes, "It's safe to assume the number is considerably higher than two million", says Saltmarsh.
"The pace and magnitude of the internal displacement and refugee exodus from Ukraine, as well as resulting humanitarian needs, will only increase if the situation deteriorates."

UNHCR Spokesman, Matthew Saltmarsh
READ ALSO: Cyber-attacks have Serious Implications on Socio-economic Development of Countries- Deputy Communications Minister