The Central Bank of England has out doored new bank notes featuring the image the King of England, King Charles III.
The front and see-through channels of the new notes will bear the King's portrait and will be the only transformational designs made to the existing £5, £10, £20 and £50 notes that have already been in circulation.
The new notes as reported, will begin circulation midway 2024. The fifty pence coins, also bearing the King's Image have however, entered circulation through the country's post offices.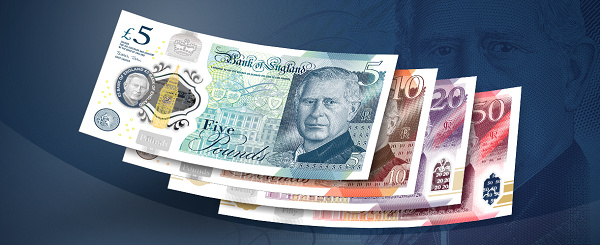 About half the total number of the new coins reserved to be given in change to customers, was 4.9 million by estimate.
The Bank of England noted that as a way of minimizing the financial and environmental impact of the change, under the instruction and lead of the Royal household, the new notes, bearing the King's image, will only be printed out to meet the rising demand or replace worn out notes.
Andrew Bailey, current governor of the famous Bank of England, expressed excitement about the new designs as he said, he was "proud" of a "significant moment" with the new design.
It has also been noted that the late Queen Elizabeth remains the first and only monarch with images appearing on the Bank of England bank notes in circulation.
According to BBC report, the initial notes with portraits of the first and ever Queen of England, Queen Elizabeth, will be accepted as a means of exchange even after the new notes enter circulation.
There are 4.5 billion Bank of England already existing notes currently in circulation worth about £80billion.
The maintaining of the old notes bearing her image is hence, seemingly in her honor, as well as the country's way of acknowledging her hard work. It is also to express their gratitude for her immense service and contribution to national development.
Response To The New Developments
The use of contactless payments, which was accelerated by the Covid pandemic has rendered the use of cash less frequent when likened to debit cards.
Rising prices have also made redundant the purchasing power of specific coins and banknotes.
That notwithstanding, consumers and collectors express their keen interest about the new images used on cash, particularly, collectors will be excited to get hold of King Charles' lowest serial numbers immediately the bank notes enter circulation.
READ ALSO: UK Government Refuses To Offer More Money To Nurses