U.S. Treasury Secretary, Janet Yellen has met with Vice Premier Liu He, the Finance Minister of China.
The officials pledged an effort to manage differences and "prevent competition from becoming anything ever near conflict" as the two nations try to improve their relations.
Yellen's first face-to-face meeting with Vice Premier Liu He was the highest-ranking contact between the two countries since their Presidents agreed last November to look for areas of potential cooperation.
Liu, for his part, stated that he was ready to work together to seek common ground between China and the U.S.
"No matter how circumstances change, we should always maintain dialogue and exchanges."

Vice Premier Liu He
The meeting comes as the U.S. and Chinese economies contend with challenges on trade, technology and more.
The Chinese economy is reopening after a COVID-19 resurgence killed tens of thousands of people and destroyed numerous businesses. The U.S. is slowly recovering from 40-year-high inflation and is on track to hit its statutory debt ceiling, setting up an expected political showdown between congressional Democrats and Republicans.
The debt issue is of keen interest to Asia, as China is the second-largest holder of U.S. debt.
There is also the Russian invasion of Ukraine, which hinders global economic growth and has prompted the U.S. and its allies to agree on an oil price cap on Russia in retaliation, putting China in a difficult spot as an ally of Russia.
Also, high interest rates globally have increased pressure on debt-burdened nations that owe great sums to China.
"While we have areas of disagreement, and we will convey them directly, we should not allow misunderstandings, particularly those stemming from a lack of communication, to unnecessarily worsen our bilateral economic and financial relationship."

Janet Yellen
Yellen has been critical of China's trade practices and its relationship with Russia, as the two countries have strengthened their economic ties since the start of the war in Ukraine.
On a July call with Liu, Yellen talked "frankly" about the impact of the Russia's invasion of Ukraine on the global economy and "unfair, non-market" economic practices, according to a U.S. recap of the call.
Meanwhile, Liu has laid out an optimistic vision for the world's second-largest economy in an address at the World Economic Forum meeting in Davos, Switzerland.
"If we work hard enough, we are confident that in 2023, China's growth will most likely return to its normal trend. The Chinese economy will see a significant improvement."

Vice Premier Liu He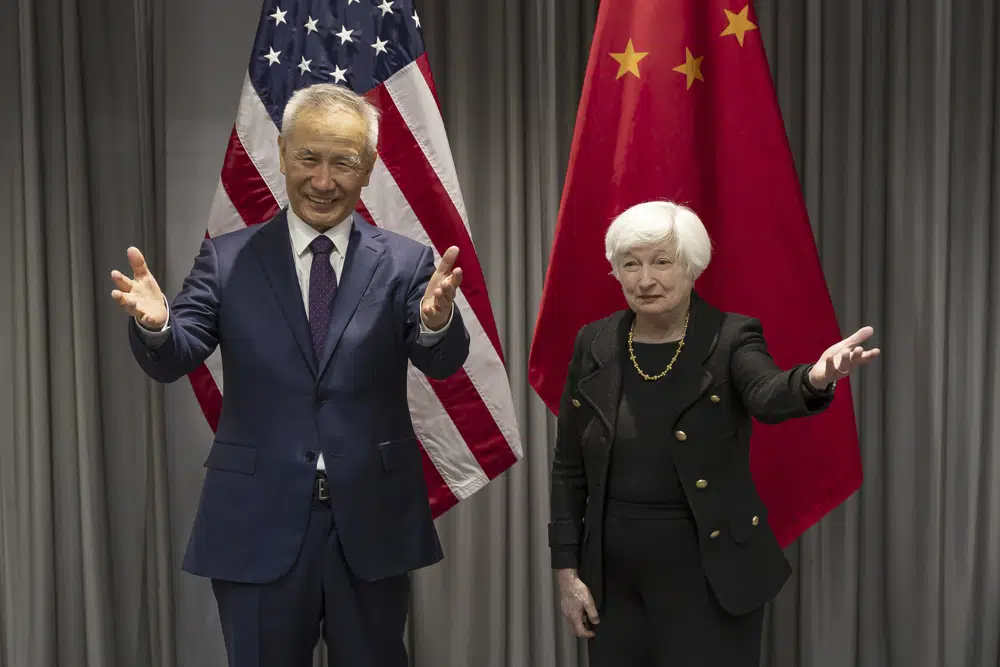 U.S House Of Representatives To Further Scrutinize Chinese Investments
And while the U.S. Congress is divided on many issues, members of the House of Representatives agreed last week to further scrutinize Chinese investments.
New House Speaker, Kevin McCarthy of California has acknowledged the Communist Party of China as one of two "long-term challenges" for the House, along with the national debt.
"There is bipartisan consensus that the era of trusting Communist China is over," McCarthy said from the House floor last week when the House voted 365 to 65, with 146 Democrats joining Republicans to establish the House Select Committee on China.
After her stop in Switzerland, Yellen will travel to Zambia, Senegal and South Africa this week in what will be the first in a string of visits by Biden administration officials to sub-Saharan Africa during the year.
Also, U.S. Secretary of State, Antony Blinken will be traveling to China in early February.
READ ALSO: President Of Vietnam Resigns