A majority of Ghanaians want the government to regulate natural resource extraction such as mining, oil drilling, and wood harvesting more tightly to reduce its negative impacts on the environment, the latest Afrobarometer survey shows.
Specifically, over 85 percent of the survey participants said the government needs to tighten regulation of natural resource extraction.
Citizens are evenly divided in their views on whether local communities receive a fair share of revenues from nearby natural resource extraction activities, and fewer than half think that the benefits of natural resource extraction outweigh its costs, such as pollution.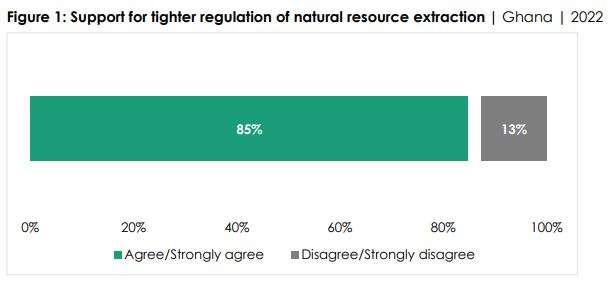 Specifically, about 40% of the participants felt that the benefits of natural resource extraction outweigh their negative impacts.
Only about half of Ghanaians said ordinary citizens have a voice in decisions about natural resource extraction that takes place near their communities. However, half of the participants said local communities are also deprived of their fair share of benefits of natural resource extraction.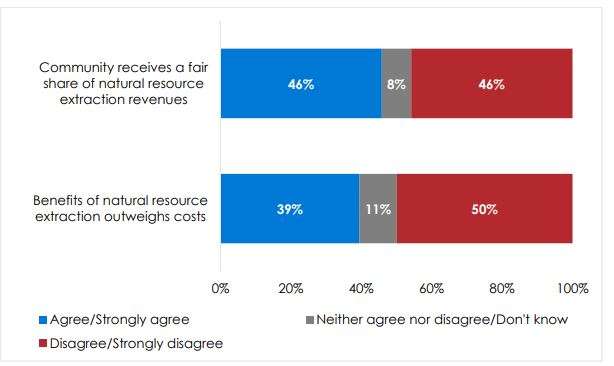 Over 60 percent of Ghanaians believe mining, oil drilling and wood harvesting negatively impact the environment, according to the survey released by research network.
Natural resources such as oil, gold, among others have contributed tremendously to economic growth in Ghana, according to the world Bank. However, citizen's participation in their extraction governance is limited, according to the Afrobarometer survey.
The results were based on interviews by non-profit research and advocacy institute, Ghana Center for Democratic Development, on behalf of Afrobarometer. The research network provides data on African experiences and evaluations of democracy, governance and quality of life.
Findings supported by related study
New research published in the journal Resources Policy, titled "Artisanal and small-scale mining formalization challenges in Ghana: explaining grassroots perspectives," supported the Afrobarometer survey findings.
According to this research, about 85 percent of artisanal and small-scale mining operators or the poor communities engaged in artisanal gold mining have no say in decision making.
These poor people are termed "galamseyers" and are considered a "menace" to society by the government and often excluded from the decision-making process.
Ghana is a signatory to the international protocol on Free, Prior and Informed Consent of Indigenous Peoples. The local people need to agree to any extraction in their jurisdiction, as per the protocol.
Climate change making life worse
Ghanaians also said climate change is making life worse, needs urgent action by government and citizens.
While fewer than half of citizens have heard of climate change, a majority of those who are aware of the phenomenon said it is making life in the country worse and requires urgent government action.
Citizens also called on other key stakeholders – including business and industry, developed countries, and ordinary citizens – to do a lot more to limit climate change.
In Ghana, 44% of adults said they have heard of climate change and among Ghanaians who are aware of climate change: Six out of 10 (60%) said it is making life worse, a 12-percentage-point increase since 2020.
More than three-fourths said that ordinary citizens can help curb climate change (77%) and believe that the government needs to take immediate action to limit climate change, even if it causes some job losses or other harm to the economy (87%).
Views are divided as to whether the government (43%) or ordinary citizens (42%) have the primary responsibility for fighting climate change and limiting its impact. Far fewer place this responsibility mainly on business and industry (9%), rich or developed countries (3%), and traditional leaders (2%).
READ ALSO: Stool Lands Act: I Think That There's A Need To Adjust The Rate- Nananom Appeal To Deputy Lands Minister