The Galamsey Action Group (GAC) has called on government to look for ways to reintegrate miners who have lost their jobs to enable them get a source of livelihood.
Speaking in an interview, the leader of the group Michael Adebah, intimated that since the miners will be losing their jobs, government has to propose an alternative source of income for these miners.
This comes after the group in a statement called for government to implement such measures as a matter of emergency.
"We require the Government of Ghana to implement, as a matter of urgency,;an alternative livelihoods scheme to retrain and resettle the teeming unemployed youth who have been forced into this dangerous business;that is not only mortgaging the future of our communities but also their own lives."

Michael Adebah
Touching on the group's contribution to the proposed action,;he indicated that his outfit is playing their part in acquiring lands which will be used for agricultural purposes.
"So, that is what we have been saying,;we are taking them away from the 'galamsey' to where the agricultural program is. So that at least, by the end of every month we will pay them. They will also cultivate and then get something out of it."

Michael Adebah
Mr Adebah speaking on the burning of excavators, disclosed his outfit does not object what the government is doing.
"That is what the government has decided and we cannot tell the government what to do. It is the duty of the government to do what he wants to do."

Michael Adebah
Punitive measures should be implemented equally
Mr. Adebah further urged that punitive measures should be meted out equally;on persons found to be involved in this illegal activity.
"If person A is supposed to be taken to court and jailed, we should also get person B to be sent to court to also be jailed. If you are burning the excavator of Michael then you should also do same to the other person. We don't want a situation whereby you will do that to Michael and leave the other person."

Michael Adebah
He stated also that if stakeholders don't take away politics in fighting 'galamsey' "we will not get anywhere."  He called on relevant bodies to live up to expectation in fighting illegal mining.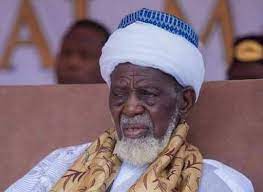 GAC calls for religious leaders involvement
The Galamsey Action Group (GAC) also called on the religious leaders to get involved in the renewed fight against 'galamsey'.
The group indicated that, this will help because these leaders play an important role in the country and can contribute to the fight.
"We are targeting the Chief Imam because he plays an important role in Ghana. We have also petitioned the Christian Council, the Pentecostal and Charismatic Council, the Catholic and Bishop conferences secretariat."

GAC
The Group then urged that;the government and mining corporations and operators live up to their social responsibility;under Ghana and International law. This, it says, is to ensure mining or industrial activities are done safely without any negative impact on the environment. They also called for the use of designated funds to improve these areas.