The Ghana Investment Promotion Centre (GIPC) has launched the 20th edition of the prestigious Ghana Club 100 Awards and the inaugural Ghana Investment and Trade Week in collaboration with the MIE Group, Dubai – organizers of the China Trade Week.
Mr Yofi Grant, the Chief Executive Officer of GIPC, speaking at the launch, expressed excitement about the event, marking 20 years of the Ghana Club 100 awards to celebrate Ghana's top 100 companies but also to create an opportunity for investors, traders and business people to facilitate Ghana's economic growth.
Mr Grant noted that on the Government's part, it launched the Ghana Cares (Obaatampa) Programme – a COVID-19 alleviation and revitalization of enterprises with a capital injection of GH₵100 billion to revitalize and re-spark the economy back to pre-covid growth levels.
With that programme, with an envelope of over GH₵100 billion, the CEO said, only 30 per cent was projected to come from the Government while the remaining GH₵70 billion or 70 per cent of it was to come from investments from the private sector.
"Even though it's been a struggle for most companies, because of the pandemic and the Russia-Ukraine war, it was still very important to acknowledge that the 70 per cent is investment that we expected coming into the economy. That 70 per cent put in the economy must be applauded and celebrated in many ways."
Mr Yofi Grant asserted that despite the Government's challenges resulting mostly from external factors, there is a clear commitment to engage the private sector to partner in curing the ills of the economy. He added that the government is also creating a robust foundation on which private sector could grow and create an ambient investment environment for the private sector to invest from both external and internal sources. "We believe that with a strong partnership like this, we will see that economy grow beyond our own expectations," he further assured.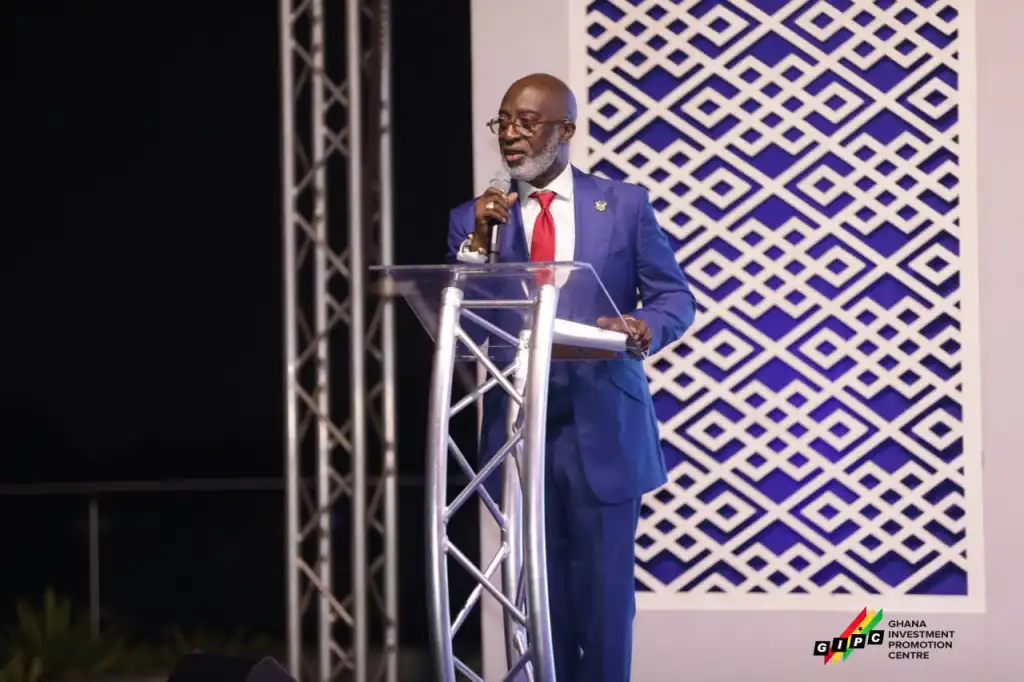 Therefore, Mr Grant indicated that the collaboration with the MIE Group, would amplify the Ghana and Africa story to a broader audience of potential investors from around the world while forging valuable partnerships to attract Foreign Direct Investment (FDI) to accelerate development and economic growth in the country.
Shared Mandate of Promoting Global FDI
Mr Zahoor Ahmed, Vice President of Strategy and Partnerships at MIE Group, Dubai, said the partnership with GIPC aligned with their shared mandate of promoting global FDI. It is, therefore, a continuation of their journey to develop the 'Ghana Investment Trade Week' – a unique partnership that will bring together global focus from Key Source Markets from Asia, the Middle East & Europe to view and discover FDI opportunities in Ghana.
The Ghana Investment and Trade Week will have a lineup over 300 exhibitors, 100+ speakers and presentations, and more than 50 workshops. This diverse array of participants will create a dynamic environment that fosters networking, facilitates knowledge exchange, and allows for the exploration of lucrative investment opportunities.
Mr David Wang, Founder, and Chairman of MIE Groups Ltd, who shared his enthusiasm about the partnership said, "We are honoured to collaborate with our key industry partner GIPC to bring the 'Ghana Investment and Trade Week' – Summit to African and Global leaders as a transformative platform to focus on FDI into Ghana".
"GITW brings together two very important entities, 'China Trade Week – Ghana' and the 'Ghana 100 Club,' to lead and collaborate on this ground-breaking Investment Summit where new opportunities are explored, partnerships are formed, and the future of investments is reimagined. MIE GROUP & GIPC will work together to shape the course of FDI growth and success into Ghana."

Mr David Wang
On the theme: "Accelerating Economic Growth: Amplifying Ghana's Global Market Footprint through AFCFTA," this year's event aims to provide a significant platform for promoting investment, trade, and knowledge exchange.
The highlight of the 20th edition is the introduction of the Ghana Investment and Trade Week, which will feature a series of exhibitions and an investment summit
The 20th edition of the Ghana Club 100 Awards and Ghana Investment Week is set to attract prominent investors, industry leaders, policymakers, and stakeholders, all of whom are committed to accelerating economic growth and maximizing Ghana's presence in the global market through the African Continental Free Trade Area (AFCFTA).
READ ALSO: Ghana's Trade Balance Improves Significantly to A Surplus of US$1.8 billion in First Half of 2023- BoG