American singer, Swae Lee has revealed that he is partly a Nigerian.
The rapper made the revelation while clarifying why he attached the Nigerian flag to a tweet announcing he was jumping on the South African genre, Amapiano wave.
He took to Twitter to announce he would be experimenting with the trending South African genre, Amapiano.
To the South Africans, the rapper added a Nigerian flag to the tweet which didn't sit down well with them.
He wrote with a Nigerian flag emoji at the end:
"Wait till y'all hear Swae Lee on Amapiano".

Swae Lee
In the comment section, some South Africans trooped to accuse Swae Lee of discrediting their country, the origin of Amapiano, and wrongly crediting it to Nigeria.
Swae Lee, however, clarified in follow-up tweets that his initial tweet was misunderstood.
According to him, he added the Nigerian flag because he is partly Nigerian.
He wrote:
"For the ones outraged about the flag, I put it because I'm partly Nigerian. I didn't say anything about the creation of the genre y'all tweaking".

Swae Lee
Swae Lee added:
"Bigs up to the South Africans for creating this beautiful sh*t".

Swae Lee
Swae Lee Shoots Music Video In Lagos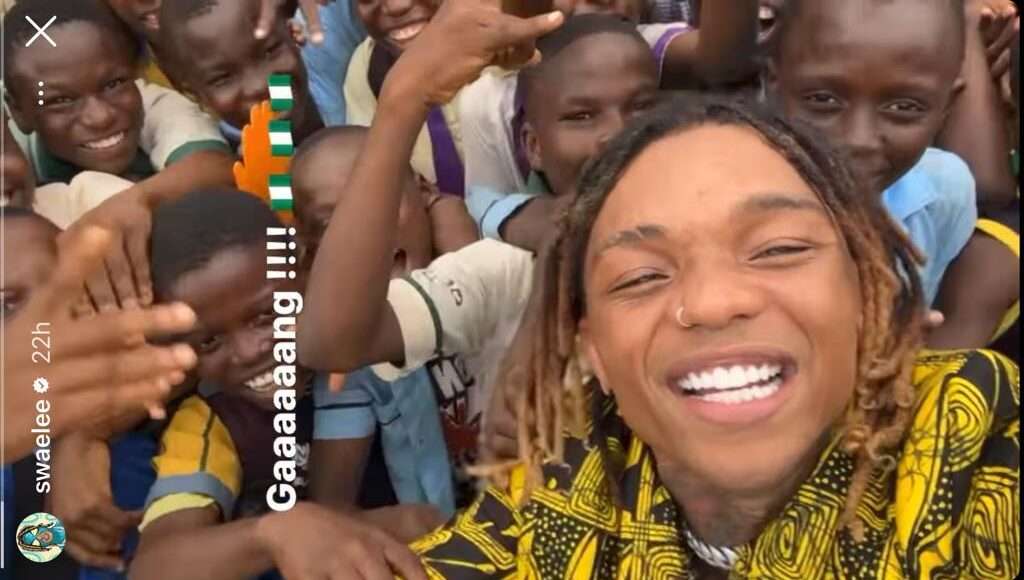 Popular US rap artiste visited Nigeria and seized the opportunity to shoot a music video in Surulere, Lagos.
The Grammy-nominated singer took to his verified Instagram account to share ecstatic videos of himself and some children in the neighborhood where he shot a music video.
Swae Lee, renowned for his Grammy-nominated status and as one-half of the dynamic duo Rae Sremmurd, took a special moment to interact with the children, bringing smiles to their faces and adding playful moments to their day.
The American music star is not the first to visit Nigeria and put smiles on the faces of children.
One of the hottest rap artists in the US, Jonathan Lyndale Kirk popularly known as DaBaby also visited Nigeria to shoot a music video with Davido in May 2022.
He also disclosed his plans to release a highly anticipated track titled "Coming For The Summer Time" in collaboration with Nigerian artist Lojay alongside French Montana.
Fans are super excited about this announcement, as the trio was recently spotted in a club in Lagos.
In an interview, the music star revealed the staggering sums he spent on his attire and accessories during his visit to Lagos, where he shot scenes for an upcoming music video with French Montana.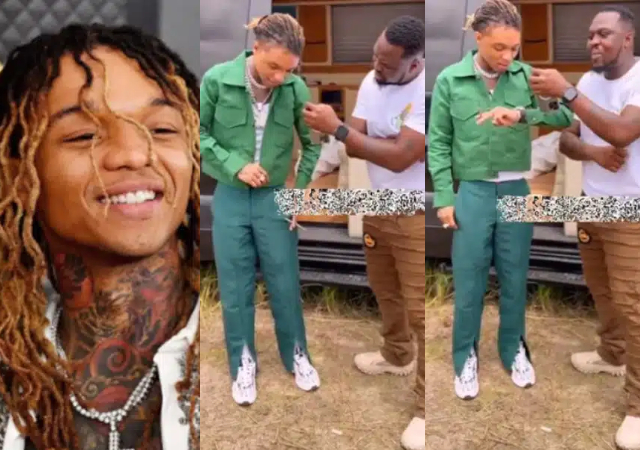 The centerpiece of Swae Lee's outfit was his diamond neck chain, which sold for an outrageous $230,000 (or N175 million).
The rapper didn't stop there; he also proudly displayed a pair of expensive sneakers that cost $1,300 (roughly N1 million). His pricey wristwatch, which cost an astounding $30,000 (about N23 million), was displayed on his arm.
During the interview, Swae Lee flaunted his wrist bracelet, acquired for an astounding $90,000 (equivalent to N69 million), while his 10-carat ring left many jaws dropping with its staggering price tag of $175,000 (approximately N135 million).
In a testament to his passion for body art, the rapper also revealed that his extensive collection of tattoos had set him back a staggering $80,000 (around N62 million).
When all the expenses associated with Swae Lee's lavish attire and opulent jewelry were tallied and converted to Nigerian naira, the grand total surpassed a staggering N450 million.
During the interview, Swae Lee also disclosed his plans to release a highly anticipated track titled "Coming For The Summer Time" in collaboration with Nigerian artist Lojay.
READ ALSO: Sarkodie Replies Kwame Sefa Kayi