Sarkodie has publicly revealed his earlier intentions of dissing Yvonne Nelson for the second time while reacting to Kwame Sefa Kayi's birthday message to him.
On July 10, 2023, media personality Kwame Sefa Kayi sent heartfelt birthday wishes to Ghanaian rap sensation Sarkodie.
During a shoutout in a show, Kwame Sefa Kayi not only celebrated Sarkodie's talent but also offered advice for the rapper to adopt a more positive approach to his music.
The media personality emphasized the importance of promoting unity and respect within the industry and asked Sarkodie to refrain from releasing rap songs that involve dissing others.
Sarkodie took to Twitter to express his appreciation and respect for the renowned media figure in response to his message.
As the radio personality is affectionately called, Chairman General, Sarkodie acknowledged his influential position in the industry.
After receiving the advice, the rapper Sarkodie decided to withhold the release of his new diss song.
Sarkodie's tweet, translated into English, read;
"The number one Chairman general. When you talk, it's final. There was one coming and it had your name in it, but since you have spoken. Bless you, my boss. I appreciate you".

Sarkodie
The controversy stems from Yvonne Nelson's memoir, 'I am not Yvonne Nelson,' in which she candidly shares her challenges and experiences while searching for self-identity as a young woman.
One of the revelations in the book includes Yvonne's claim that Sarkodie impregnated her but refused to take responsibility, resulting in an abortion.
In response, Sarkodie released a diss track titled 'Try Me,' which contained derogatory and offensive remarks, including slut-shaming directed towards Yvonne Nelson.
Kwame Sefa Kayi advises Sarkodie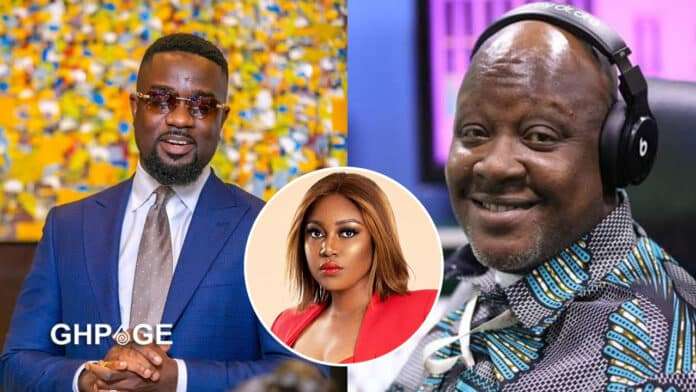 Renowned media personality Kwame Sefa Kayi extended his warm wishes to Ghanaian rap sensation Sarkodie on the occasion of his birthday.
Expressed with genuine affection, Kwame Sefa Kayi said:
"So King Sark, wherever you are, Happy birthday to you, and be a good boy".

Kwame Sefa Kayi
Additionally, Kwame Sefa Kai touched upon Sarkodie's distinctive beard, playfully remarking:
"Your beard is like something I don't know".

Kwame Sefa Kayi
The media personality went a step further by addressing the ongoing controversy between Sarkodie and Yvonne Nelson.
Kwame Sefa Kayi earnestly appealed to Sarkodie to let go of any animosity or disagreements he may have with the talented actress.
The media personality emphasized;
"One love. Happy birthday to you, Sarkodie, and as I said, stop everything. If you don't know, and you make a song and mention my name, you will see what I will do to you".

Kwame Sefa Kayi
Also, reacting to the development, Mr. Logic intimated that at no point should Counsellor Lutterodt and any other person thinking like him should hold the view that Tracy, the wife of rapper Sarkodie does not need apologies.
He advised:
"It is senseless and childish for anybody to think Tracy does not deserve an apology. Do you know what she is going through as a wife? Imagine your husband becoming a topical issue on the news that is not positive. There is fire on the mountain in their home and the right thing for Sarkodie to do is to apologize to Tracy his wife".

Mr. Logic
Mr. Logic noted that videos on social media showing Sarkodie and Tracy having a good time outside of Ghana if true, is in order and it is a form of reconciliatory trip.
He claimed:
"The videos I have seen on social media and especially what has been shown on this show today, have apologies and reconciliation written all over them. This is not usual; Tracy in a smiling restaurant and beach scenes speak volumes. If the scenes were a stage performance, then the narrative will be different, but this is clearly an apology vacation because there is fire on the mountain".

Mr. Logic
READ ALSO: Only Hypocrites Condemn Abortion– S3fa