Fredrick Amoako Bonah known by his stage name B4bonah has revealed that he left the music scene for a while to concentrate on his family.
According to him, his reason for being away for some time was because he wanted to support his wife on the delivery of their second child, adding that he could not leave her to cater for the children alone.
He asserted:
"As you are growing, what you were not privileged to have for a long period of time while you were young, do it well the moment you get the chance. It's been long since I saw my dad. He has been dead for years now.
"So, upon getting the chance to be a father, I need to put things in place to be a good father, so that my children will not say their father was nowhere to be found when they were born".

B4bonah
He noted how painful it is not to have fatherly love and knows how it feels not to have a father around as one ages.
B4bonah announced that he is back in the music scene after his break.
He revealed:
"I don't want my children to know me as a musician only but they should know me as a dad too because I am trying to be a father figure no matter how hard it becomes.
"Even though we are stubborn children, there is the need for us to be good for the sake of our young ones".

B4bonah
He further stated that he wants to be celebrated too as a father during the 'Father's Day' celebration.
The music industry doing better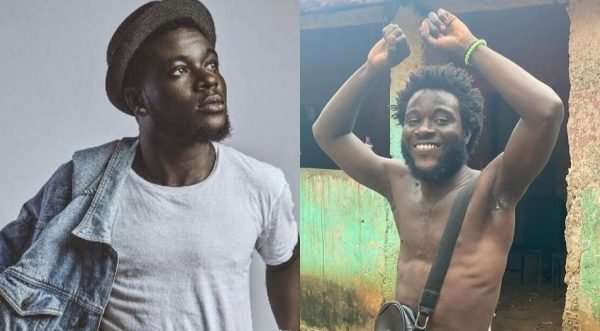 B4bonah revealed that the music industry is fun now and he is seeing progress in the industry.
He disclosed that all eyes are on artists, so it is up to the artists to do what they can do best.
He said:
"I feel that we look solid in the forefront so we are ready to go as Ghanaians. We are ready to face the world with good music and that's why we are here".

B4bonah
Talking about the comparison between Ghanaians and Nigerians filling the O2 Arena, B4bonah noted that all fingers are not equal and Ghanaians will surely get there, adding that it takes hard work to get there.
He asserted:
"Nigerians filling the O2 Arena gives me pressure to do better and nothing else. I think people have done a lot in this world, be it good or bad. You need to take it as it is if you see it to be your path or not. I feel what they are doing is the right thing.
"You can't just get up and fill O2 Arena. I believe they [Nigerians] did hard work to a certain stage before they could fill the O2 Arena. We will definitely get there too no matter how long it takes".

B4bonah
He revealed that Ghanaians are also playing their role accordingly in the music industry, adding that sponsors and promoters will come in to support them as time goes on.
He also advised that artists should not reach out to their comfort zone only but try as much as they can to travel around the world to sell themselves and their brand, adding that they're working for the world and not themselves.
He said:
"Music is a global thing, so when doing it have it behind your back that we are going global. That's how some artists are able to say their song is on Spotify and Apple Music".

B4bonah
B4bonah was signed to Ghanaian Record Label Mimlife Records in 2015.
B4bonah had his major breakthrough in the music industry when he released his single 'Dear God' which made it to the charts in Ghana. 
Also, he has worked with artists such as; Sarkodie, and King Promise among others.
READ ALSO: Elikem Kumordzie On Celebrity Mental Health