A section of social media users has condemned Blakk Rasta's decision to cite Nana Aba Anamoah's baby-daddy in their ongoing banter on social media.
The Ghanaian radio presenter and singer decided to punch the renowned female broadcaster where it hurts the most by bringing up the matter of her former partner.
As earlier reported, Nana Aba rebuked Blakk Rasta for belittling and thrashing rapper Sarkodie's verse on the remake of 'Stir It Up', a song by Jamaican reggae legend, Bob Marley.
He replied to Nana Aba's tweet on Twitter by saying;
"Sis, it will be awesome to have you on my show on @3fm927. I will invite @stonebwoy along to discuss Putuu as well. Maybe the @bobmarley family will help you understand the hook in Bob's Buffalo Soldier which goes like Woo yo yo Woo wo yoyo…".

Blakk Rasta
Amidst Blakk Rasta and Nana Aba's banter on Twitter, the former shared the two photos of Osebo rocking what has been termed as women's clothing.
He captioned the images with these words which was a direct jab at the Nana Aba: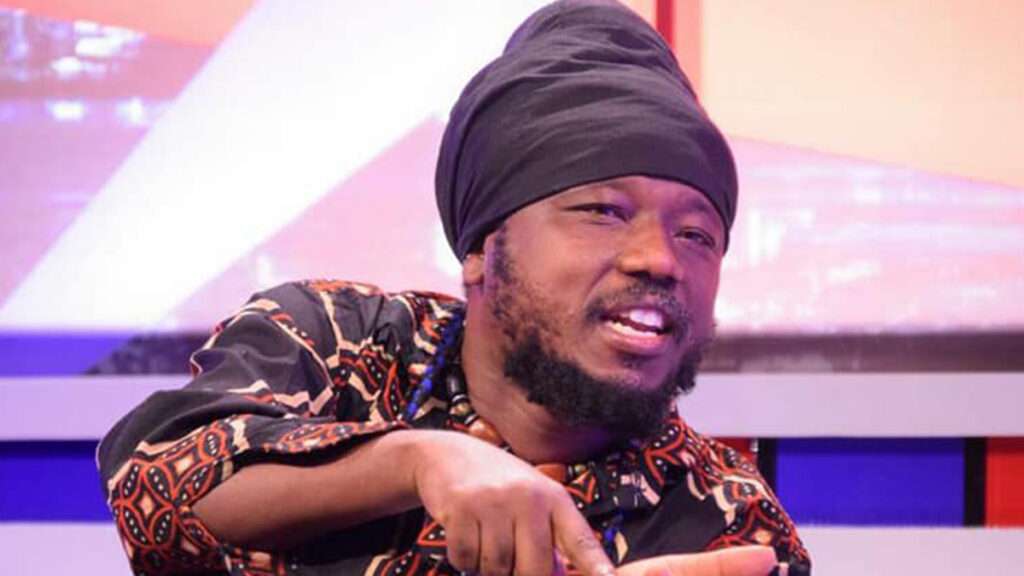 "Sis, @thenanaaba I hear you have this Legend's direct phone number? I need him to borrow this outfit for the Bob Marley Day concert in May".

Blakk Rasta
He wrote after requesting for her to come to grace his radio show on 3FM.
Meanwhile, Blakk Rasta has been urged to cease fire as his little misunderstanding with his colleague in the media space seems to have escalated.
Below are some reactions stirred online.
"@blakkrasta With all due respect! You and @NanaAbaAnamoah are debating over Bob Marley and Sarkodie's 'Stir It Up' song and not your personal lives and past relationships and sh!ts so why attack Nana Aba's personal life? Why drag her past relationship into the mud and gutters?".

Umar Counselor
"U fit beef plus Nana Aba but Charlie u no fit mock Osebo ein fashion sense..dat gee dey the same league plus Kanye west..e fit walk for Paris fashion week den Milan fashion week. Dat gee dey buy ein clothes for ZARA. Blakk rasta no go fit buy 50 clothes for Zara not even 10".

KompanyDaKing
"Blakk Rasta dey cook Nana Aba Anamoah. This one dierrr, I dey support Rasta secof Nana Aba dey love that thing too much. She no wan make you talk ein matter, but e do aa then she wan talk people demma matter. Coook @Blakkrasta cook!".

davidaxelrode
Nana Aba asks Blakk Rasta to explain content of his viral Chinese song
Media personality, Nana Aba Anamoah has accepted to appear on Blakk Rasta's radio show on the condition that Sarkodie's feature on the late Bob Marley's 'Stir It Up' track will not be discussed.
She instead asked Blakk Rasta to prepare explanations for portions of a track he put together with lyrics purporting to be in Chinese.
She tweeted at Blakk Rasta on February 5, 2023, saying;
"Bro, on the Marley -Sark feature, I've said what I have to say to you. Marley's children & his estate managers are doing what they deem fit for his legacy. Keep catching feelings. I'd, however, be happy to come on your show to discuss this song instead. Mentease3!!".

Nana Aba
The 'Barack Obama' singer had challenged Nana Aba to appear on his show to discuss his views on the Sarkodie-Bob Marley feature, which he described as a desecration of the legends' status accusing Sarkodie of putting in a sub-par performance.
Blakk Rasta's invitation tweet read;
"Awww… As if you're a stranger to Blakk Rasta. I have never hidden my true feelings and agenda. Could you, please say which of the reasons I intimated is HOGWASH? Honey, disagree with me but FACTS still SACRED. Ready to come on my #URBANBLEND show on @3fm927 so we compare facts?".

Blakk Rasta
READ ALSO: Bosheba Breaks Silence On Altercation With Sammy Kay, Bemoans Disrespect From The Blogger