The Nigerian Navy has disclosed that its personnel, OSCOMP Abdulgafar Ahmad, popularly known as Cute Abiola is currently serving a one-month punishment for ridiculing the Nigeria Police Force in one of his skits.
The popular Instagram comedian, who was arrested on November 15, 2021, has been released from detention to serve his "light corrective punishment" in the cantonment till December 15, 2021.
Naval spokesperson, Commodore Suleman Dahun confirmed the development to local media. He noted that the 25-yr-old comedian was given a light punishment of a "one-month extra duty" after a military trial.
"Cute Abiola will be in charge of cleaning; supervising painting, electricians, carpentry, cutting of grasses, and others. He will be supervising civilians. He is no longer under detention. He has been released to move around to serve his punishment".

Commodore Suleman Dahun
Commodore Suleman Dahun further explained that, because Cute Abiola was detained on November 15, that one month will start counting from then, "which means he is going to be engaged till December 15. By then, he will be off the extra duty".
Commodore Suleman Dahun then emphasized that Cute Abiola should have known better that he was not supposed to wear Police uniform in his skits let alone ridicule the law enforcement agency.
When the Nigerian Navy eventually confirmed Cute Abiola's arrest and detention on November 17, 2021, his fans believed that it was connected to an Instagram post he made on November 13, 2021.
Cute Abiola posted a video of himself clad in military uniform and wielding a gun. It was from one of his scenes in Funke Akindele's comedy drama, 'Jenifa's Diary'. His lawyer however debunked the speculations.
According to Lawyer Fatai Adebanjo, the said video which many were speculating as the reason for Cute Abiola's ordeal, was not the reason for the arrest.
Narrating the whole issue, the lawyer said: "The video many had assumed to be the reason for his arrest, was posted by the comedian on Sunday, November 13, while the comedian was arrested on Monday, November 14. This was after he received an order from his superiors at work the previous week".
The lawyer also explained that in the said video, the comedian did not disregard the Nigerian Navy in any way.
According to the lawyer, Cute Abiola wore an improvised Police uniform and a toy gun in one of his scenes in Funke Akindele's comedy drama, 'Jenifa's Diary' and noted that it was not a Naval uniform.
Cute Abiola's Lawyer Appeals for his release
Mr. Fatai Adebanjo appealed for the swift release of the comedian, Cute Abiola for the sake of his wife and aged mother. According to him, Cute Abiola's wife was depressed and traumatized since his arrest nearly three weeks ago. He also noted that his client's parents left their businesses, and have been in Lagos since their only child, Cute Abiola, was arrested.
Armed Forces Social Media Policy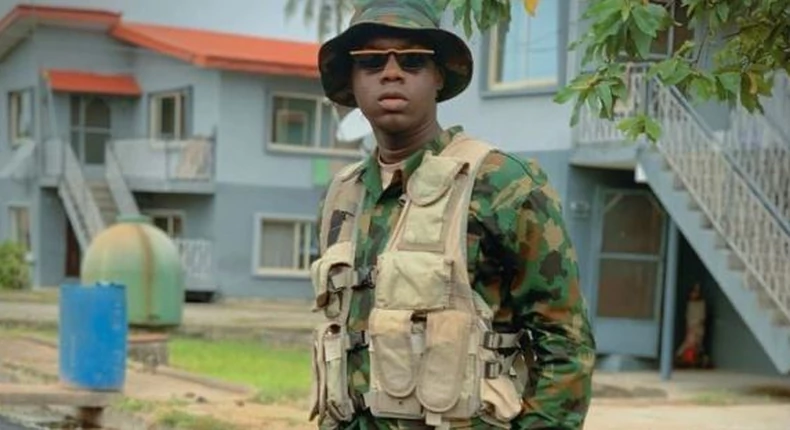 The Nigerian Armed Forces Social Media Policy is embedded in the Armed Forces Act of 2017.
The law gives guidelines for use of Social Media by military personnel including the extent to which members of their families are allowed to use social media.
One of the cautions in the guidelines reads: "Personnel should not post their pictures or those of their colleagues in military uniforms, or pictures containing military structures, platforms and other military-related items".
It also states that military personnel are also required to warn their family members against controversial conduct on social media.
Read also: Ghana's Public Debt To End 2021 At 80.4% Of GDP – Tesah Capital