Ghanaian award-winning rapper, DBlack has released the visuals for his first song off his most anticipated album 'Loyalty'.
Titled 'Enjoyment Minister', the artist, Dblack tipped the song to be a "banger". He also admonished all and sundry to watch the video. Posting an excerpt of the video, he wrote:
"Brand new fire!… Banger alert! Enjoyment Minister music video!… DBlack #Stonebwoy #QuaminaMP #EnjoymentMinister"
Reactions to DBlack's post
DBlack's post attracted several comments from netizens and fans alike. Most of them praised him for such a quality video. Similarly, some agreed with him when he said the song is a "banger" and hailed him for investing so much into the production of the song.
Others too were of the view that, the artists he featured on the song did justice to it. According to them, he should keep up with it since it will help take his music far. Nonetheless, some averred that the beats of the music give off a "South African vibe". However, they mentioned that they still enjoyed it.
That notwithstanding, some fans of Stonebwoy mentioned that because he featured Stonebwoy on the song, he should be ready to hit a million views soon. Meanwhile, some opined that Stonebwoy dominated the song as he delivered a flawless verse on the song. Some reactions to Dblack's post read: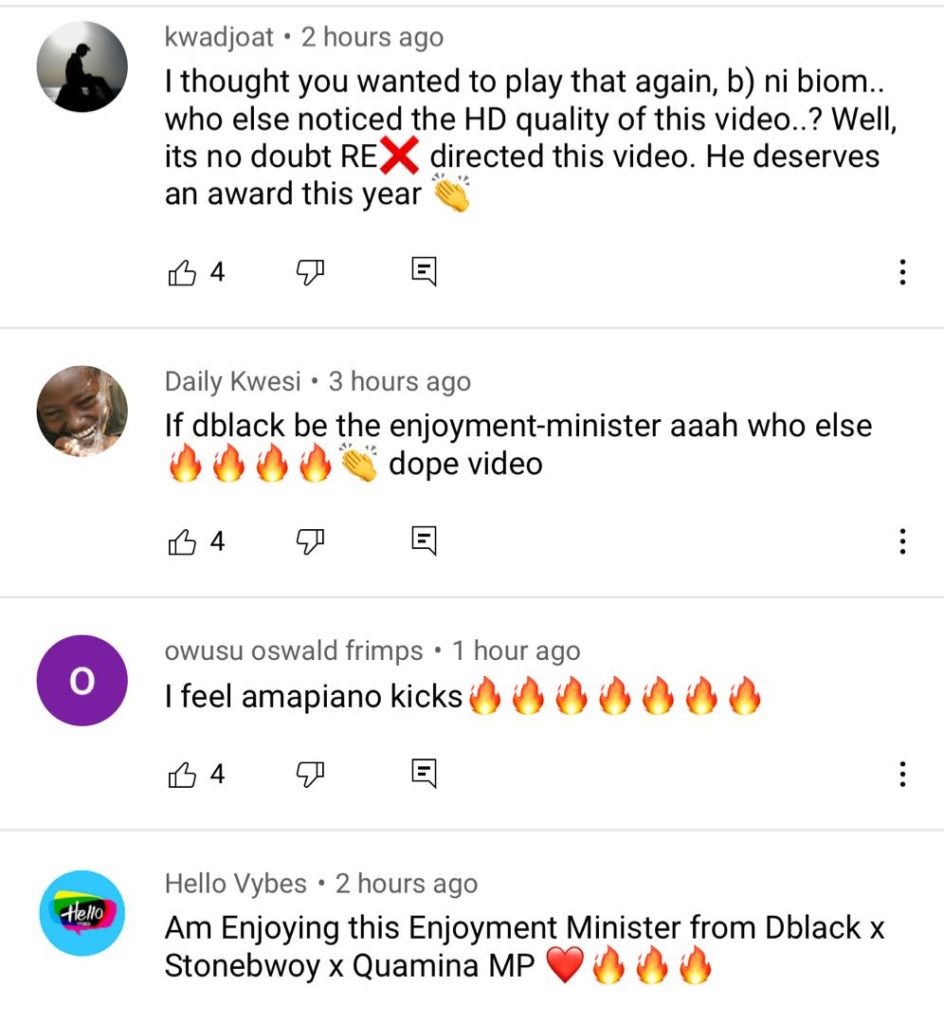 DBlack's 'Loyalty album' will amaze fans
It is worth noting that the music video which was premiered on YouTube a few hours ago has over five thousand views. The music video sees DBlack and Stonebwoy delivering some hot verses and QuaminaMP rendering his unique voice for the chorus of the song.
It can be recalled that in 2019, DBlack in an interview made the announcement of his 'Loyalty album'. He also talked about how he "loves to live life and celebrates success". He further mentioned that he believed his 'Loyalty album' will "amaze fans".
It is worth noting that, DBlack's 'Loyalty album' has a long list of some of Ghana's finest artists.
Recently, the latest artist DBlack featured to record the "worldwide hit album" is the talented young singer, Gyakie. Knowing well that Gyakie is the 'lady of the moment' as she tops charts across Africa and the world at large, a collaboration with her will go a long way to promote his music.
More so, recently, Dblack confirmed in a Twitter post that he has also featured the 'Asaaka boys' on the loyalty album. He disclosed this after a fan asked him on Twitter to feature the 'Asaaka boys' on his album. In response to that, he confirmed featuring them already. Some of these 'Asakaa boys' include; Jay Bahd, Kawabanga, Cedi city Boy, Sean Lifer, Rabby Jones, Braa Benk, among others.
Read also: DBLACK DOES NOT PIMP US – SEFA