Head of planning at the National Road Safety Authority (NRSA), Henry Asomani has assured that his outfit will tackle road violations in the country.
Speaking in an interview, he indicated that the Police service will also ensure they get more reports on road violations. Mr. Asomani said lawlessness on the roads are a total disregard for safety and laws on our roads.
"I think the time has come for us to tackle the menace on our roads where people take the law into their own hands and drive without abiding by any laws.
"I think it is time we take the bull by its horn and ensure that something is done to curb these road violations which will also in turn deter others from doing so."

Henry Asomani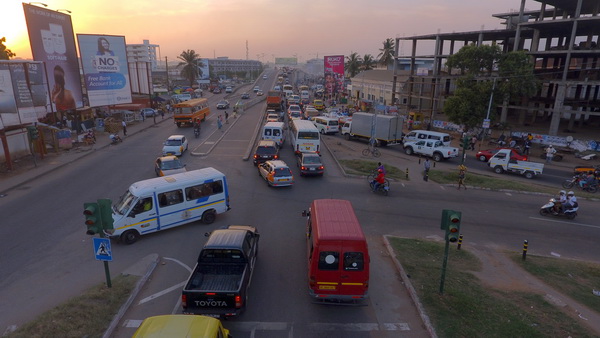 Touching on how the authority monitors road issues, he stated that there are inspectors who monitor road activities. Mr Asomani indicated that there are regulations, inspectorate and compliance directives in which these inspectors fall under.
"The work of these road safety inspectors is to see such violations and bring to the attention of the authorities. Then we will bring to the attention of anybody who should be taking charge of such cases."

Henry Asomani
He further indicated that they also have surveillance cameras monitoring the roads in the country. Mr Asomani then disclosed that the police is also coming with the speed and red-light cameras which will also capture these offenders.
He stated that apart from using technology, the Authority will also go the manual way. This, he said, will be to place road safety inspectors who will be monitoring vehicle activities on the roads.
Citizens gathering evidence will help
Mr Asomani posited that this will help the police apprehend and prosecute persons who violate road laws. He also said the Authority will be glad if citizens monitor and gather evidence for them to make their work easier.
"We will also appreciate if the citizens who see these things happen gather enough evidence and then send to us. For now, we have social media handles on Facebook, Instagram and twitter and if they go there, they can find us and report to us."

Henry Asomani
He also revealed that a road safety information centre was being developed so that reports can be made easily. He said when the centre becomes functional, all reports made will help them gather evidence to aid investigations. Also, Mr. Asomani said it will aid in meting out appropriate sanctions to faulters.
"As soon as it is ready, we will share how we can be contacted through this road safety information centre. Then when you share it through that, we will get the content of the video and all that."

Henry Asomani
Touching on the causes of the road accidents,;he averred that the authority is not just looking at the accidents. He stated that, his outfit also monitors some of the things on the roads which cause these accidents.  
Moreover, he posited that the NRSA is also concerned with road infrastructure which is another cause of road accident in the country.