Renowned gospel musician Diana Hamilton has revealed a significant aspect of her romantic journey, sharing that her husband, Dr. Joseph Hamilton, holds the unique distinction of being her first and only boyfriend.
According to Mrs. Hamilton, she has never been romantically involved with anyone other than her husband. She clarified that she has no ex-boyfriends and that she was a virgin when she met her husband.
The  "Adom" hitmaker stated that their love story unfolded during her final year at nursing school, a period that marked the beginning of their connection.
It can be recalled that Dr. Joseph Hamilton, husband of the award-winning musician, spoke for the first time in an interview on live radio some few days ago.
According to him, there is nothing about his wife that he would like to change.
Dr. Hamilton said that they share a deep understanding and excel in their respective fields. Adding that even though her commitments are considerable, she can travel to Ghana on a Saturday and return back to London by Tuesday morning.
He disclosed that they met in church and remained friends before deciding to take their relationship further.
Many admired the couple for their effortless display of love and devotion.
Diana Hamilton is an award-winning Ghanaian gospel musician, songwriter, professionally trained and practicing nurse in the United Kingdom (UK), and brand ambassador for Enterprise Life.
She is currently the most decorated female Ghanaian gospel musician with over 30 awards and 65 nominations.
Diana Hamilton on how she discovered her singing gift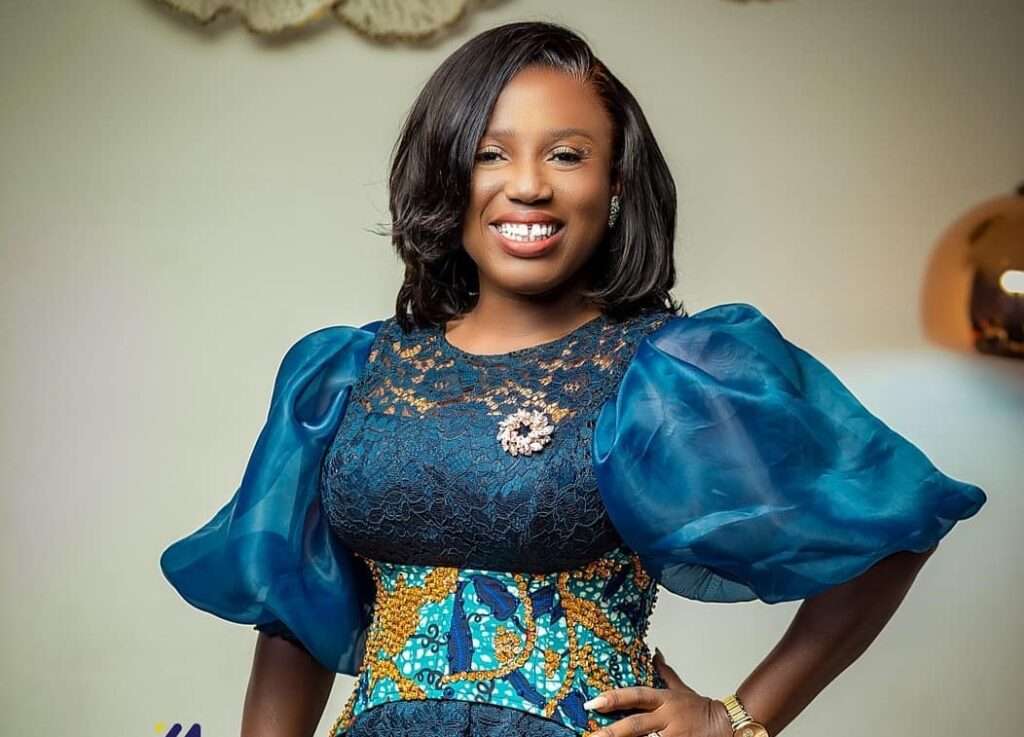 Diana Hamilton noted she has sung since her childhood.
Mrs. Hamilton revealed she was 13 years old when she first sang in church. It was at the Sunday School.
She recalled:
"I remember it vividly. It was my 13th birthday at Dr [Thomas] Wyatt [Assembly of the Church of Pentecost], behind Mallam Atta".

Diana Hamilton
The 'Adom' hitmaker expressed how she felt during that time. She said:
"It was good. My teacher had taught me a song and since it was my birthday I said I'd sing and I did. I remember very well".

Diana Hamilton
After the day, her teachers having noticed her singing gift, made her sing during Children's Day celebrations in front of the adult audience.
Talking about how she had the opportunity to get into the industry, she recalled:
"Along the line, I had the opportunity to sing with Francis Adjei for so many years. Finally, in God's time and according to his planning, in 2007, we came out with the first album 'Osoro Bekasa' (Heaven Will Speak).
"Two years later, we followed up with 'Ensiwo Yie' (May It Be Well with You). Three years later, we released 'Eye Woa' (It's You), and with God's help we added the 'Yehowa' album which houses 'Yehowa Behwe' (God Will Take Care of You) and 'Work in Progress'".

Diana Hamilton
The multiple award-winning singer-songwriter further added:
"After this, [singles] like 'Mo Ne Yo' (Well-done) came, 'W'asem' (Your Word), 'Adom' (Grace), 'Ewurade Ye' (Do It, Lord), 'My Meditations' and now 'Say Amen'".

Diana Hamilton
Mrs. Hamilton said that she had musicians who inspired her and she also noted that these were her seniors even though she had been an active singer for a long time.
She recalled:  
"I used to admire Suzy and Matt a lot. I used to admire Jane and Bernice, Daughters of Glorious Jesus, there's another one I really love and admire – Cece Winans – she's American. So there are people we looked up to".

Diana Hamilton
Diana Hamilton was the ultimate winner at the 2021 Vodafone Ghana Music Awards (VGMAs) lifting the Artiste of the Year trophy.
READ ALSO: Dancing Has Made Me Confident And A Person Of Value – Afronitaaa