Prominent Ghanaian actor on the famous Kejetia vs Makola series, Lawyer Nti, has shared his battle with depression and the unconventional path he took to seek help.
In a candid revelation, born Richmond Xavier Amoakoh reflected on the difficult period and the emotional toll it took on him.
Opening up about his struggles, Lawyer Nti said:
"We all face challenges that shape us and define our journey. By sharing my experience, I hope to inspire others and let them know they are not alone".

Lawyer Nti
He shared the impact his three-year depression had on him. He said:
"During that period, I felt like I was trapped in a never-ending cycle of despair. It became increasingly difficult to engage with the world around me. Even simple tasks seemed insurmountable".

Lawyer Nti
He denied that a woman was to blame for his depression.
He revealed:
"I had set ambitious goals for myself, and when I couldn't attain them, I began questioning my worth. It was a time of profound self-reflection, where I confronted my limitations and grappled with feelings of insignificance".

Lawyer Nti
Lawyer Nti admitted to seeking guidance from one or two ritualists in his search for answers and a breakthrough.
He went on to say that despite his encounter with the ritualist, he realized that only God could provide him with the assistance he needed.
He stated:
"I learned that genuine help comes from God, and if something is not meant for you, no external force can make it happen. It is through faith, self-reflection, and seeking the right sources of support that we can find our way forward".

Lawyer Nti
Richie asked me to take a break from acting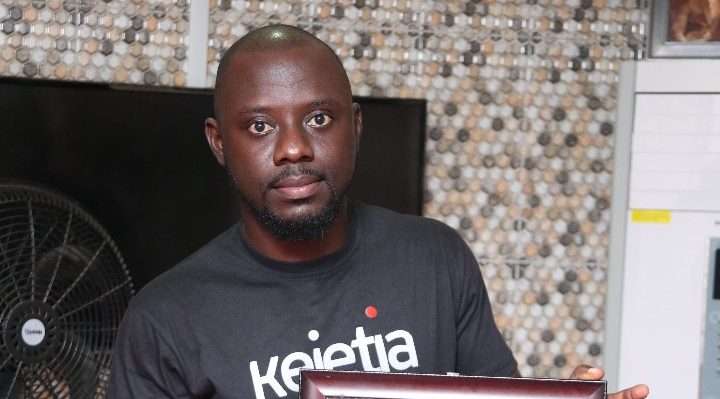 Lawyer Nti opened up about the reason behind his temporary absence from the screen.
The actor revealed that he took a break from acting on the advice of Richie Mensah, CEO of Lynx Entertainment.
The purpose of the hiatus was to build anticipation among his fans, allowing them to eagerly await his return.
Lawyer Nti shared:
"We had a meeting, and Richie told me to shelve acting for a while so Ghanaians would miss me while we prepared to bring out our new television series, Prophet Baddo".

Lawyer Nti
He acknowledged the success of this strategy, as Ghanaians became curious about his whereabouts.
The script for the four-part series was crafted by Richie Mensah himself. It follows the humorous yet intense journey of an ordinary man who unexpectedly transforms into a prophet, seeking an escape from his troubles.
To bring this story to life, 'Prophet Baddo' features a talented ensemble cast, including Fiifi Coleman, Princess Nkrumah, Andy Tetteh, Andrew Tandoh, Henry Agbai, and other seasoned actors. Their collaborative performances are bound to leave viewers in fits of laughter.
Regarding the release of 'Prophet Baddo,' Lawyer Nti unveiled the premiere plans, stating:
"The series is set to premiere exclusively at the Silverbird Cinemas, followed by a screening at the Golden Eagle Cinema in Kumasi on Thursday, July 22. It will then start showing on Lynx TV from July 23".

Lawyer Nti
Produced by Tigon Creative Studios, an affiliate company of Lynx TV and Lynx Entertainment, 'Prophet Baddo' promises to deliver a winning combination of comedy, suspense, and entertainment. With the highly anticipated return of Lawyer Nti to the screen, fans eagerly await the laughter and entertainment that 'Prophet Baddo' will undoubtedly provide.
As Lawyer Nti humorously remarked:
"Now that the new series is ready, I believe they will know where I have been all this while".

Lawyer Nti
This statement perfectly captures the excitement and curiosity surrounding his comeback. With the premiere of 'Prophet Baddo' on the horizon, audiences can expect a wild experience that will keep them thoroughly entertained.
READ ALSO: Ohemaa Mercy Publicly Honours Ex-husband