Veteran actor, Psalm Adjeteyfio, better known as TT of 'Taxi Driver' fame has unleashed his wrath on one of Ghana's comedian, DKB. TT asked DKB to keep his mouth shut after DKB described him as an "embarrassment".
It can be recalled a few days ago that, TT cried out for help as he was unable to pay for his rent and also cater for his medical treatment of a heart-related illness.
Following TT's call for help, the Vice President, H.E Mahamudu Bawumia came to his aid and donated an amount of GH50,000 cedis to be used to pay for his rent and for his up keep.
This led DKB to react to TT's actions as he opined that it was an "embarrassment" and bringing shame to the creative arts sector.
However, DKB advised TT invests the money he has received and that it will be able to sustain him for a long time.
"Please the GH¢50,00, if you are close to him [Psalm Adjeteyfio], let him know that it is investment money, not money to live off… it's enough embarrassment to come out and be talking about him needing help, calling people for help, and doing interviews. It's disheartening because it makes Creative Arts look bad. Now that he's had 50, 000 he must invest it. He shouldn't invest in transport or hospitality, he will regret. He should invest in basic necessities, simple 'waakye' and 'koko' (porridge) business. He has a brand name that is active, he can make it TT 'waakye' business and TT 'sobolo' business, and people will support".

DKB
Unfortunately, this may not have sat well with TT regarding DKB's remarks and advice. Reacting to DKB's comments and others who criticized him for sharing his problems in public, TT hurled insults at them and pointed out that one can lose all his wealth and properties as a result of some unforeseen illness. Therefore, they should keep their opinions to themselves.
"People build mansions, disease takes them all away. People buy cars, disease takes them all away. So please, know how to talk. If you don't have anything to talk about, keep your mouth shut. I pray that those of you saying all those stupid things, may the father send the devil to visit you".

Psalm Adjeteyfio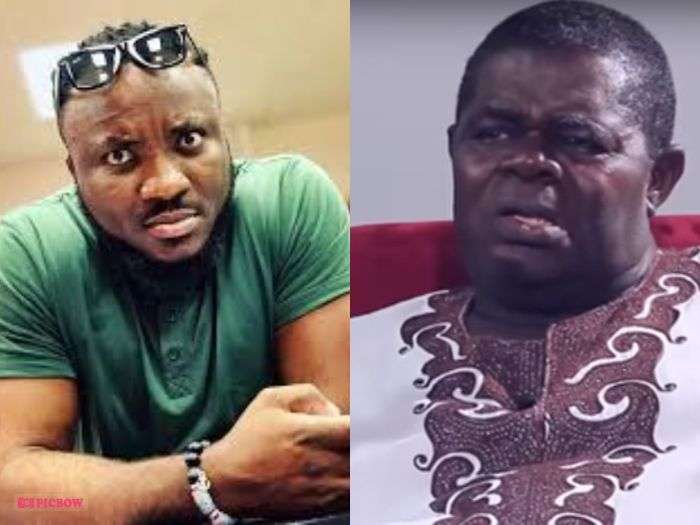 Meanwhile, dancehall artiste, Stonebwoy has also shared his views concerning the deplorable situation some veterans in the entertainment industry are going through.
Stonebwoy looking at how most veterans turn into beggars and depend on charity support cried out for his future and that of his colleagues asking if they are all headed to "damnation" after spending almost half of their lives entertaining their country.
According to Stonebwoy, the unfortunate situation that hit Psalm Adjetefio and others who aren't yet known shouldn't have happened because "someone who has worked his whole life as an actor or entertainer shouldn't be feeding off donations".
Stonebwoy went ahead to state that it's great to donate and support people even though others use it for clout. However, he noted that it shouldn't be the means of livelihood for the veterans, but rather, "they should live off the reward on their hard work".
Stonebwoy then called on stakeholders to fix the royalty system in Ghana to avoid any of such situations in the future.
Read also: Mahama has no lessons to give me in the management of the economy- Prez Akufo-Addo