Nigerian singer Stanley Omah Didia, popularly known as Omah Lay, has charged people to live their lives on their terms because people would move on when they die.
He reminds people that life is short and they should do what makes them happy.
The singer expressed his sadness that things are slowly slipping back to business as usual since Mohbad died. He then used that avenue to remind people to live their lives.
Omah Lay also noted that he had just heard about Mohbad's passing and the sad news broke him down for a bit, especially because he saw him as family.
"I'm gonna use this chance to say this you have to live your life. If you're watching this right now you have to know that you have to live your life. Look Mohbad just passed and it broke me down so much, everybody is moving on. I'm so sad because I just heard the news. He was my boy like my family. So rest in peace man", Omah Lay said.
Omah Lay further advised people to prioritize their happiness, he said that people eventually move on after mourning. These days people are on social media for a minute then move on with their lives.
"And at the same time, you go on Instagram and see everybody vibing and everybody is in the club. You have to live your life you have to live your life you have to do, so what pleases you you have to be in your 24/7. Don't let anybody kill that for you cuz as soon as you're done all anybody can do is write RIP on their stories or their feed and that's done".

Omah Lay
Omah Lay's sudden fame put him in bad mental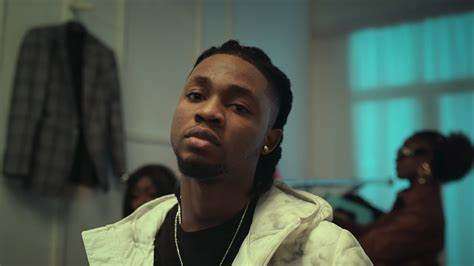 Omah Lay revealed that his sudden fame affected his mental health.
The 'Soso Crooner' stated he struggled at first with fame but found his balance later.
"It was a jump; at first I struggled, and it put me in a bad mental state because I was still trying to learn my ways. However, with time, I got more comfortable and learned that I was running my race and that I should move at my own pace", Omah Lay said.
"There was pressure. You don't expect to move from one crappy laptop or spending all your life in the studio to being a global superstar. It's just like they brought you from just starting music production to this right here (points at equipment in the studio): 'You go lost'. As soon as I learned and realized that, I became much stronger and started to enjoy my life more".

Omah Lay
He also stated that he has no issues coming out to the public to talk about his vulnerabilities.
"If I can put my vulnerabilities in my song, then I can talk about them. My music is all about my real-life experiences, and I know everybody in the world is listening to it", Omah Lay said.
It can be recalled that earlier, Omah Lay opened up about being suicidal and depressed. According to him, going through depression and overcoming it was divine as he is now able to help those who are depressed.
"I was on the verge of…I was suicidal, mahn. Trust me, I was really fucked up", Omah Lay said.
"But I think I have to be there to actually help the people who are there right now to get out of that place. I mean it will take a real person like me to go there and then make music out of it and talk about it so openly how I'm a mess, how I think, and how I'm fucked up and everything. I'm not sure you will find Afrobeats artists who do that right now. Everybody is out there saying afro beats are not so deep, 'afro beats are just vibes and shit'. Nah. That's why everybody is just doing hype. The real music is dying".

Omah Lay
Omah Lay said he remains undeterred in making 'real music' from his experience.