Sylvanus Dodji Jeoffrey, better known as Captain Planet, a member of the music group '4X4, has called on everyone to pray for musicians as he has foreseen the death of a "big musician" in Nigeria.
Explaining the scope of his dream on his Twitter, Captain Planet said the 'anonymous' musician was poisoned, leading to his death; further pleading for all and sundry to pray for the music community.
Further highlighting on the gravitas of the situation, the "hot girls dot com" hit maker belted a silent prayer himself for God's protection.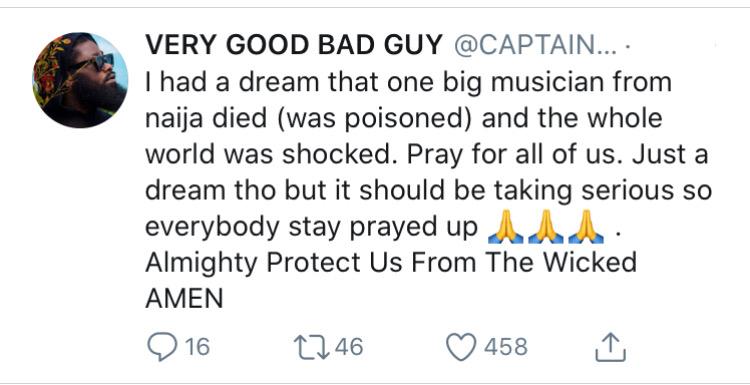 "I had a dream that one big musician from Naija died (was poisoned) and the whole world was shocked. Pray for all of us. Just a dream tho but it should be taking serious so everybody stays prayed up. Almighty Protect Us From The Wicked AMEN".
In the past few years, the Ghanaian media space has been dominated by discussions over how some prophets have dished out death prophecies in the public domain. The discussions started after several doom prophecies were delivered by a number of these prophets, announcing the names of some celebrities and politicians, some even going further to mention what was going to cause their death.
Names which have been alluded with such prophecies include; Reverend Isaac Owusu Bempah, Prophet Nigel Gaisie, and Reindolph Oduro Gyebi also known as Eagle Prophet.
This trend became predominant after Nigel Giaise prophesied the death of the late Ebony reigns which later materialized.
In February this year, Wendy Shay had her own share of the cake when a Prophet by name Akwasi Appiah, during one of his services said the singer would be kidnapped for 21 days after which she would later be killed for rituals and her body left to rot.
Soulful singer and song writer, Efya was also on the death hit list as Prophet Nigel Gaisie established that she was going to die just like the late Ebony.
Contrarily, the singer came out to also reject the prophecy on her social media platforms, saying she was not going to die but live.
Noted for his national prophecies, Prophet Isaac Owusu Bempah, in 2019 as part of his new year's message, also predicted the death of His Excellency John Agyekum Kufuor and his wife, calling for strong, collective prayers to avert the prophecy.
Also, Vice President, Dr. Bawumia in a different circumstance was tipped to lose his life by Prophet Isaac Owusu Bempah, recommending prayers to offset the manifestation of the prophecy.
He also prophesied the death of the National Chief Imam, Sheikh Dr. Osman Nuhu Sharubutu, which caused much vilification attracting a violent cross section of angry Muslim youth who stormed his church premises vandalizing some properties.